Reading Time:
4
minutes
Indians seem to be very proud of Qutub Minar. It is a nice sight to visit, no too crowded even on a Saturday afternoon. As usual when it is available I decided to hire an audio guide. Audio guides will give you only advantages.
First no pseudo fake official guide is going to annoy you and try to get your money in exchange of dodgy historical facts…
Second the information you receive is probably accurate. It probably doesn't work in every country but I think I can trust India for not trying to change History.
Third the audio guide will get you much more than roaming around by yourself and just looking at old stones. I did learn something.
Fourth the audio guide is a lot cheaper than an "official guide". It cost 200 rupees. That's about 3 euros.
The entry fee for Qutub Minar was 250 rupees for foreigners (20 for locals). Paying 250 rupees also let you skip the very long queue.
So what is there to see? There are 5 main parts. The Minaret, the attempt of Minaret, the Mosque, the King tomb and the College.
The Minaret is the most iconic monument of the complex. It is said to be the highest Minaret in India. It is made of marble and red sandstone and is 72m tall and it is more than 800 years old! Most pictures you find online don't do justice to that monument. It is a really impressive structure et very detailed and nicely carved.
Of course my pictures are the best! Click on them to see for yourself.
This is the actual Minaret.
Not far from the Minaret is a strange sort of mound. It looks like there was a Minaret here before but it got chopped off. Well not really. A few years after the completion of Qutub Minar (around 1300) another King, Alauddin Khilji, decided to build an even bigger Minaret that would be more than double the size of Qutub Minar. But he died before the completion and his successor  aborted the project. The audio guide was suggesting that the successor didn't have the drive and the ambition of Alauddin Khilji. For this sort of construction we all know that the builders are rewarded by being kept alive if they can survive the construction! Some are falling from the tower or dying of exhaustion… I like better the second King. Who needs such a big tower? Hum…
Next to the Minaret is the oldest Mosque in India which was build around 1200. Or at least this is the gate that leads to the Mosque. The Mosque is in pretty bad state right now, pretty much just a ruin.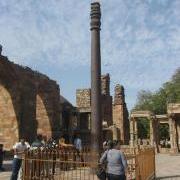 A strange iron pilar is erected in the middle of a large square. It is said to be one of the world first metal curiosities.
It is 7m high and weigh 6 tons. It has been taken from places to places like it was a mikado… Apparently you were supposed to stand up with your back on the pilar and your arms wrapped around it and make a wish and it would obviously come true once you made your 12 goats sacrifices.
Today we can't sacrifice any goats anymore because the pilar can't be touched by anyone.
Then there is a couple of tombs for which I don't have pictures and it is a shame because one of them has a funny story but I am sure you will forgive me for that.
You will forgive me because I have a picture of chipmonks attacking people.
Click on the picture to see it!
Obviously the guy on the picture:
A) Doesn't realize he's surrounded by chipmonks and wonders why I am taking pictures of him
B) Is already calling animal control
C) Has never seen a camera before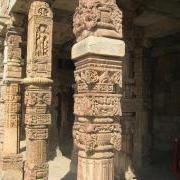 Here are some nice pilars from I can't remember where.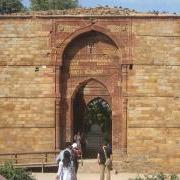 Oh look! That's the tomb I couldn't find a picture of. So here is the funny story. You see the rooftop? It used to have a coupole or a dome. But it collapsed. Several times. So today the History is simply saying that it was on purpose to make sure the spirit of the defunct goes to the skies… the truth is the builders didn't master the technique at that time.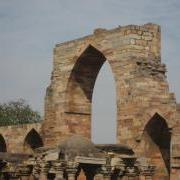 This door is a part of the Mosque in ruins. I really like the geometry of the door. It is very pure.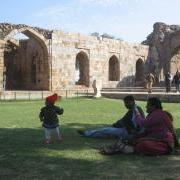 And here is a kid playing on the lawn of the College. Here in India it's the winter. It is still 25C but it's cold for Indians. So this little girl is wearing a big woolen beanie and warm clothes… I bet she's not cold!