Reading Time:
5
minutes
I'm preparing for my ultimate goal of completing Paris-Brest-Paris 2023. But I don't want to just get there and wing it. 2022 will be another training season for PBP. I will need to complete a least one BRM which can be either one of the following
200km
300km
400km
600km
1000km
I will most likely do a couple or more 200km, one 400km. I may do the 600 Helsinki-Satakunta-Helsinki if times allows. But it's usually at the beginning of June.
The real challenge of 2022 is Race Across France 500.
We are going to travel by RV from Finland to France and head to the south of France.
The Race across France
The Race Across France 500 is an ultra-endurance race happening at the end of June. It is part of a longer race of 2500km from Le Touquet to Mandelieu in 10 days. I am not able to ride that long quite yet. So first I am going to take on the 500km baby version of it. There is a time limit of 40 hours and it includes 5 serious climbs and a collection of smaller ones.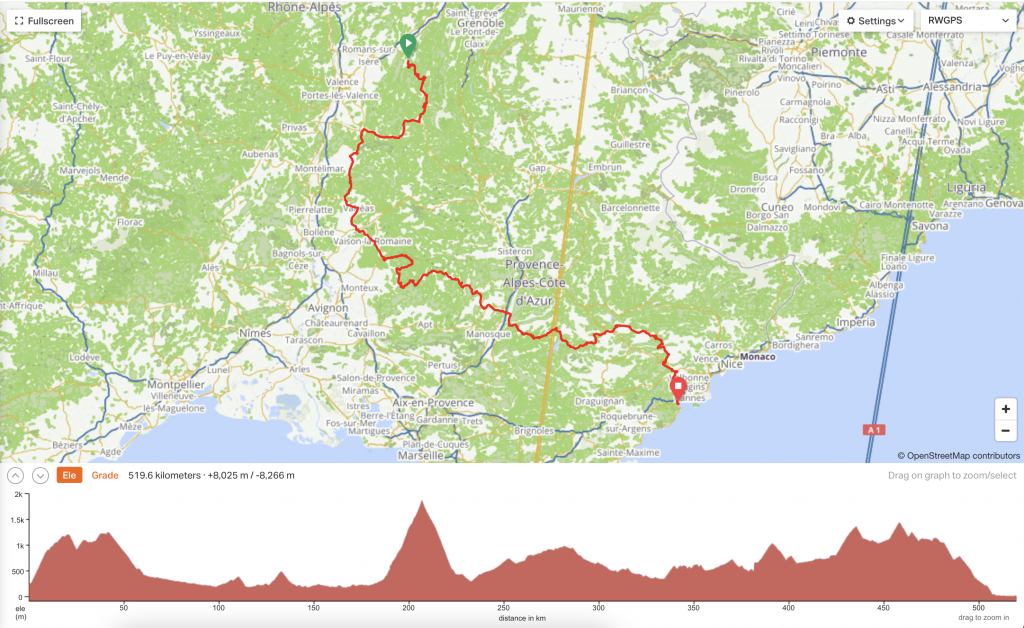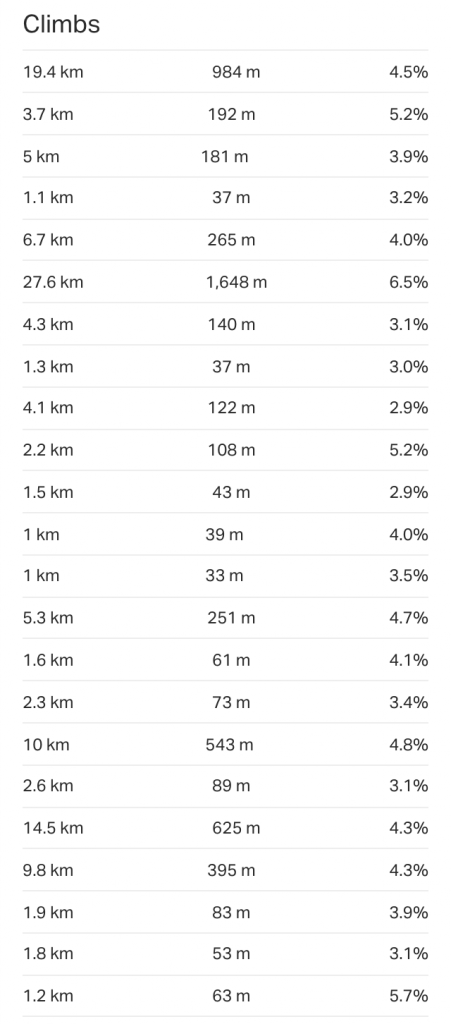 Since I am not very experienced with climbing, I need to train and be smart.
First I am on a mission to raise my FTP to 300W so I can recover fast after a short climb, and trying to raise my base so I can climb without hitting my limits.
For that I took Alex Coh as a coach.
I am not entirely sure yet what the program is about but he's got a plan.
The part I find very interesting is the mechanics and the biomechanics.
When checking the climbs above, it's very clear the Race Across France is going to be a very long ride. After last season of riding I started to develop some patience and I know this is key to completing long rides.
The baseline is 100km = 5h on flat terrain.
On a hilly ride, it's going to be different.
I know I can be around 200W in Z3-Z3, and I am trying to get better at that so it will be definitely Z2 and not Z3.
How fast can I climb at 200W? And is it possible? This is very new to me, so I may be completely wrong.
There are a few constraints:
The RPMs: I need to pedal at least at 60 rpm so I protect my knees. If I pedal slower than 60, it's likely I will have to go off the saddle (en danseuse) and that's bad for the knees.
The gear ratio: I want to have a gear ratio that works so I can go up and down the mountains.
The speed: we have a time limit of 40h to complete the race and I just cannot take all the time in the world. Also if I am too slow, I fall. That's gravity.
The weight of the man and the bike. I currently weigh around 100kg. Hoping to drop 5 kg. The bike should be around 15kg with saddle bags, water, food, etc.
Last week I decided I would try something new and change my rear derailleur from Ultegra Di2 to GRX Di2 so I could fit a really large cassette with cogs up to 42 teeth. I then learnt that I needed to also move the front to 1X instead of 2X. Quite a big change which I will need to tryout… Maybe put a good 2000km on that drivetrain before riding it on the Race Across France. I am now left with a 40-42 for the highest cog and 40-11 for the lowest.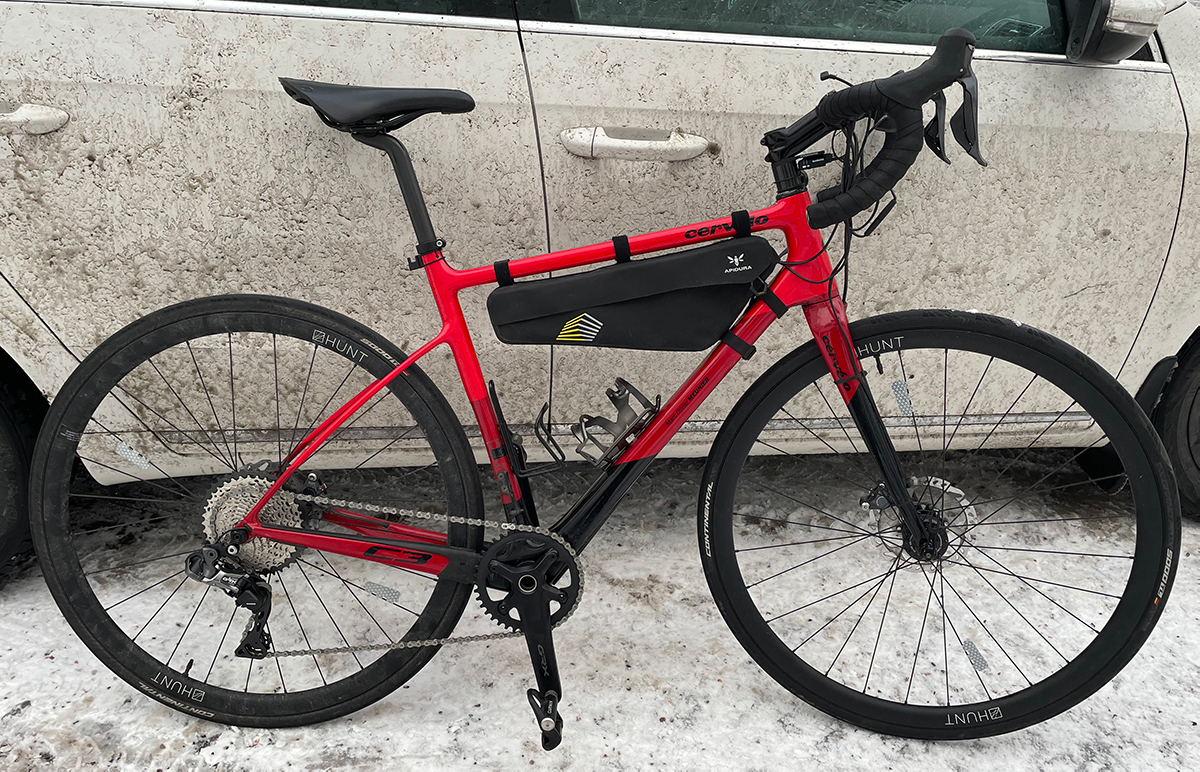 Gear ratio calculation
I went to the legendary Sheldon Brown website to do some gear calculation:

The result is the following: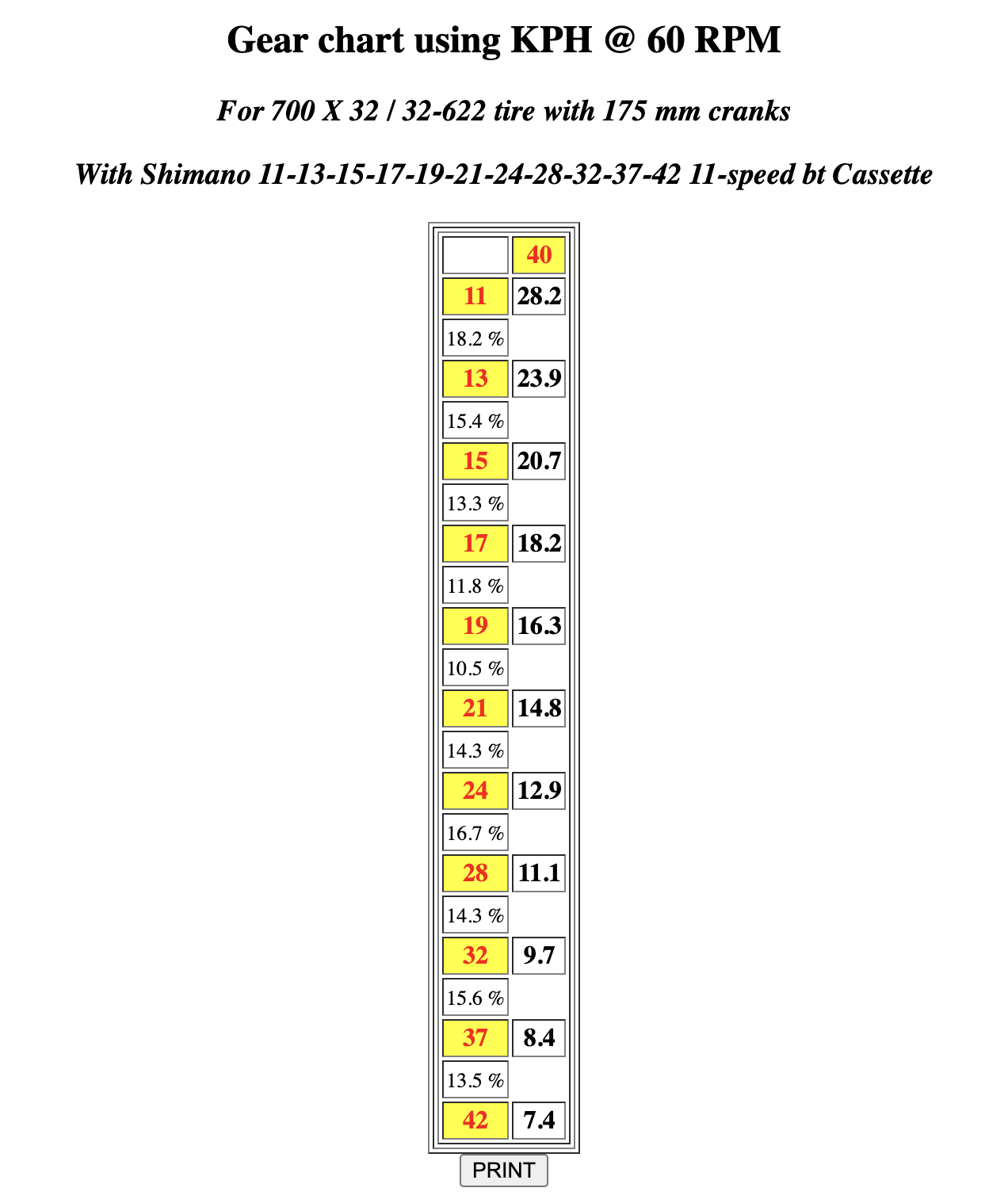 This means that at 60 rpm, on the biggest sprocket, I will be ridding at 7.4km/h
From a physics perspective, that's OK and doable.
Now I need to calculate the wattage.
For that I am going to Omnicalculator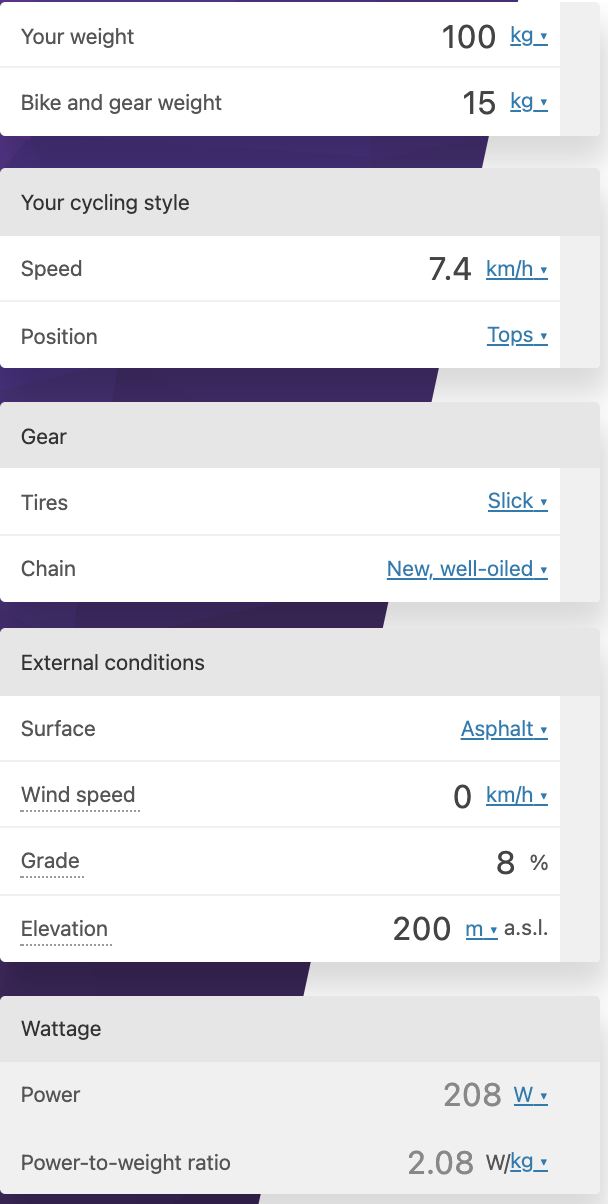 So in the Mont Ventoux, in the thick of it at 8% I will have to push 208W to ride at 7.4km/h
I know there are many other sections where it will be more than 8%, but there will be sections with less than 8%. I will just have to take my time in order to stay OK.
The climb is so long that I can't lose my patience and decide to hurry up. It would destroy the rest of the race.
If I can pass the climbs, I know a large part of the job is done. Next I will need to establish a good resting strategy. I don't have the experience of these hero riders who cycle through the night for days without sleeping.
Sleep
The race will start in the evening around 20:00. Which means I will go through the first climb by night. I am not expecting to leave first, probably in the wobbly belly, around 21:00. The first climb is about 20km long, 4.5% average, so I estimate I should be on top by 23:00 and by midnight I should be 45km away at the beginning of a long 60km descent. Hopefully I should be around 35-40km/h average on that descent, so with a bit of rest I should cover that in a couple hours. It's 2AM and we've covered 100km. That's 100km in 5h and maybe that's a bit optimistic.
The road to Malaucène, at the foot of the Mont Ventoux is fairly flat. A few small hills. 10km at 1.6% and 5km at 3.5% and about 85km in total. That should be another 4h which means I should get to Malaucène around 6AM.
I'm planning to take a nap. Probably 3 hours. And then make my way up the Mont Ventoux.
Hopefully it won't take me more than 3 hours to get to the top. Since this will be a first,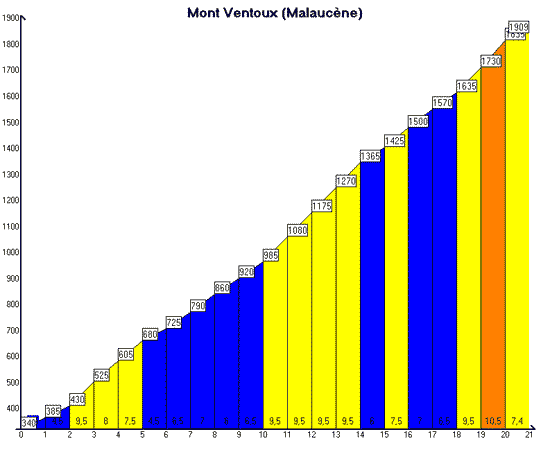 22km at an average of 7.3%. Maximum grade of 10.5%. Scary
Hopefully I'll be on top around 12:00.
Once at the top, I'll probably get down right away and rest on the way. I'll make sure to check my brakes before descending and drink some caffeine to stay awake. Then I'll probably take another nap at the bottom at Ville-sur-Auzon around 13:00, or carry on if the caffeine kicked in.
Then it's just 300km left 🙂