Reading Time:
22
minutes
1219km of party
It was a dream. After getting into serious cycling 4 years ago, after riding my first 100km ride with friends on an oversized bike, after riding my first 200km BRM with the local randonneurs, I finally did it. Paris-Brest-Paris 2023.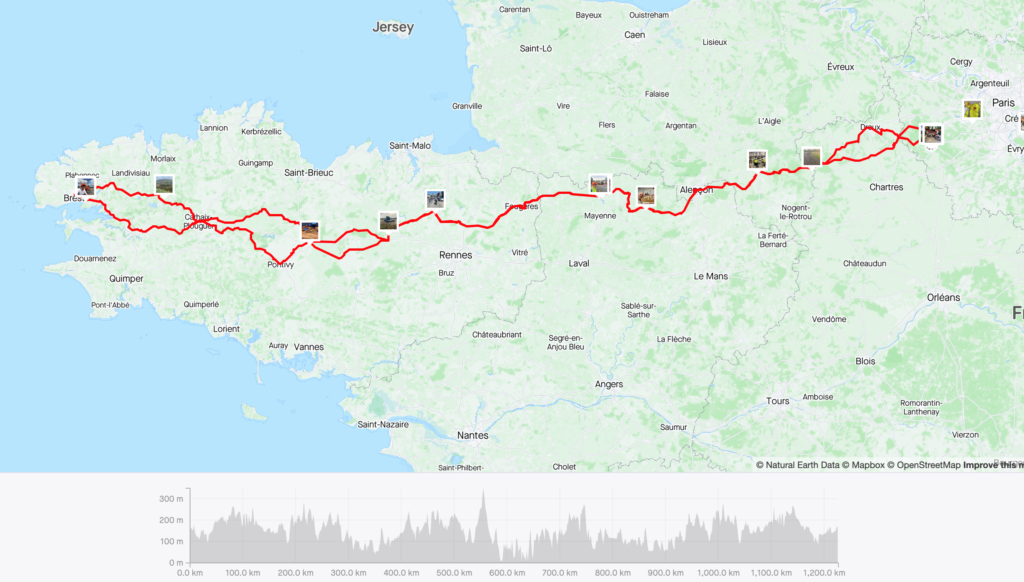 Getting to France
No surprise here. Flying from Finland to France is the easiest way to get to the start line. The plan was to fly on Friday evening. Land in Paris, go to my moms place. Sleep. Build the bike. Go to a hotel next to Rambouillet to have a good night sleep before the start. And go.
Almost everything went according to the plan.
Building the bike worked mostly well. No problem. Everything almost worked out of the box.
From this: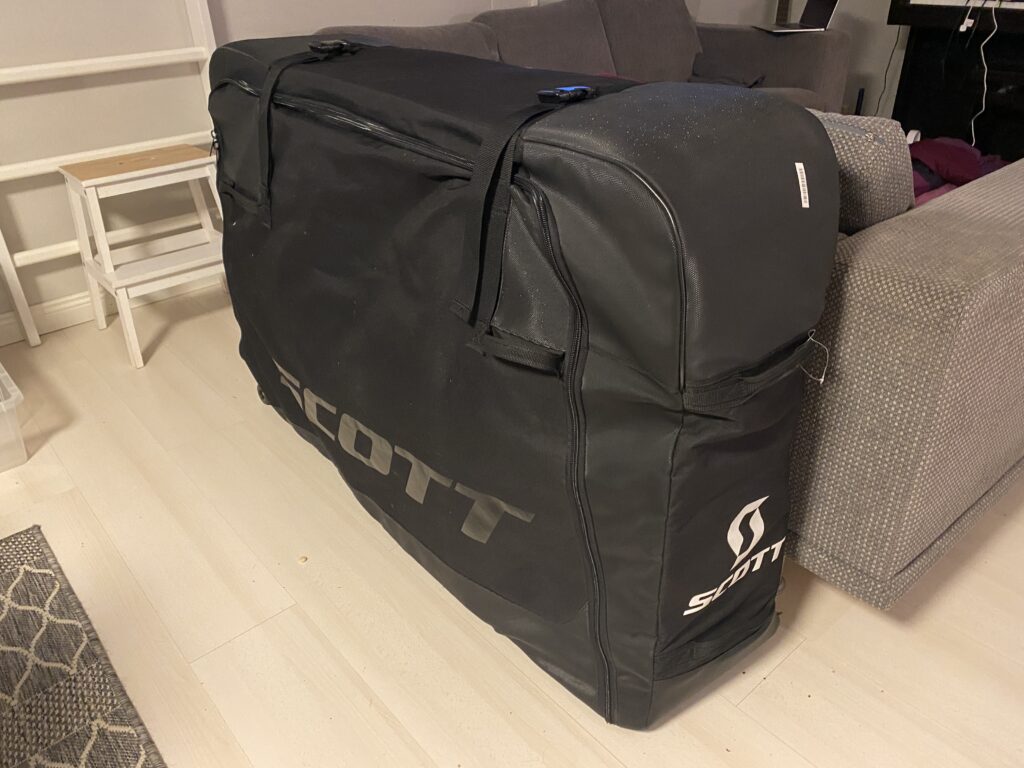 To that: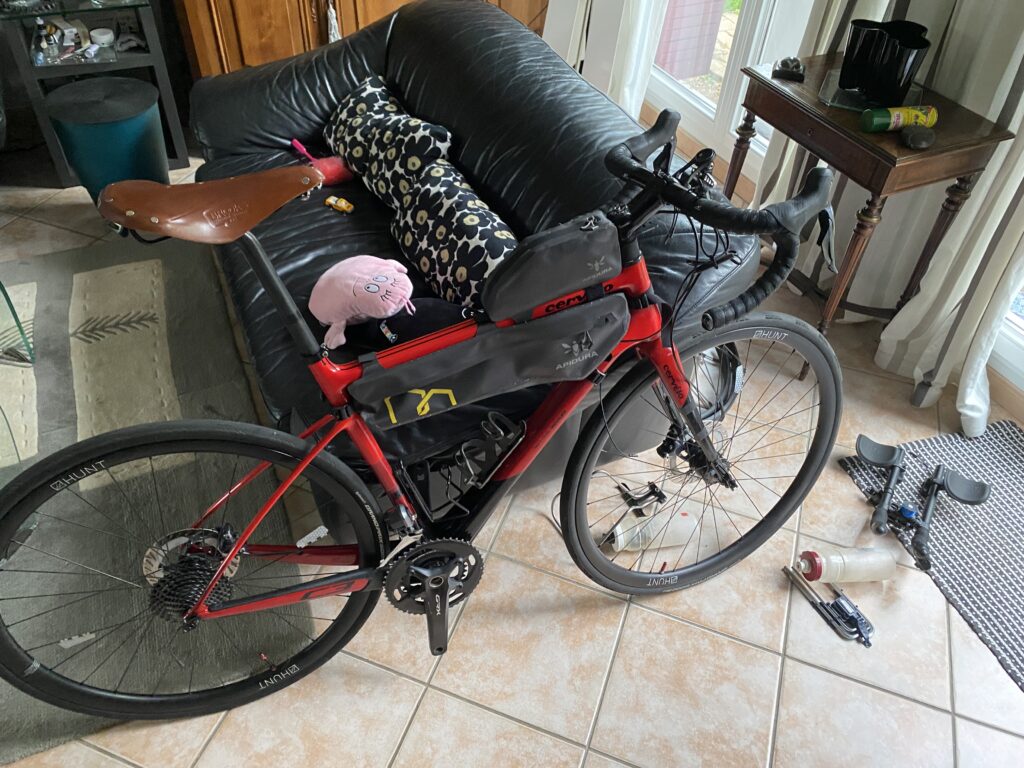 And then to that: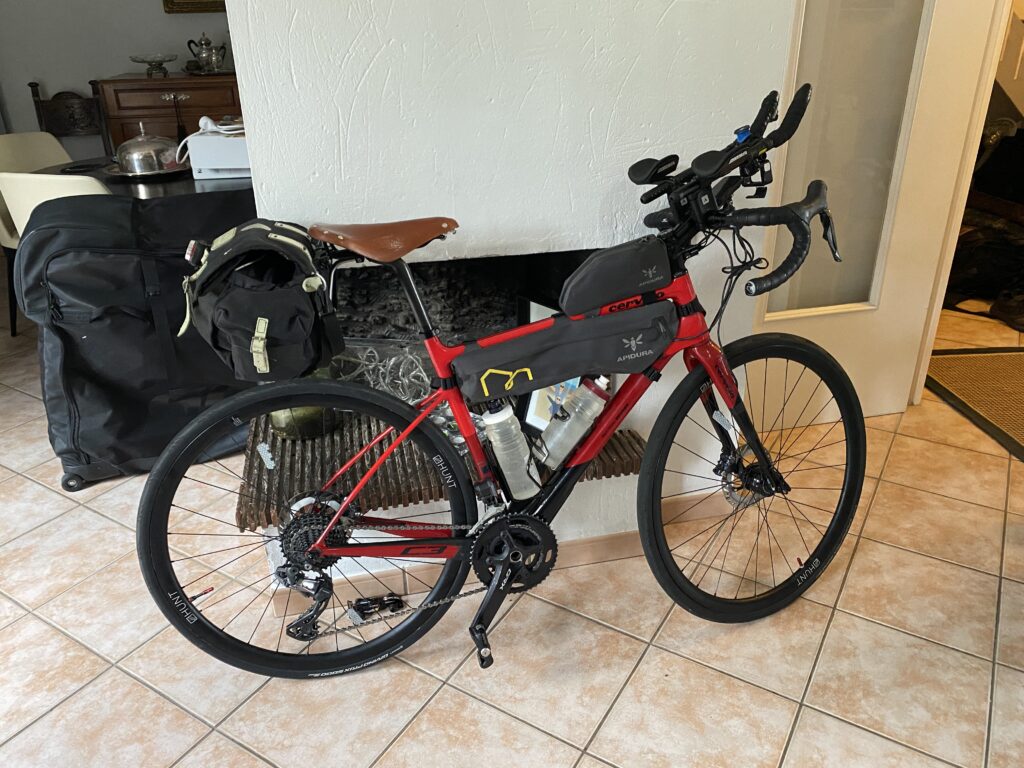 On my way to Rambouillet for the registration. Let's put the bike in the tiny car of my mom.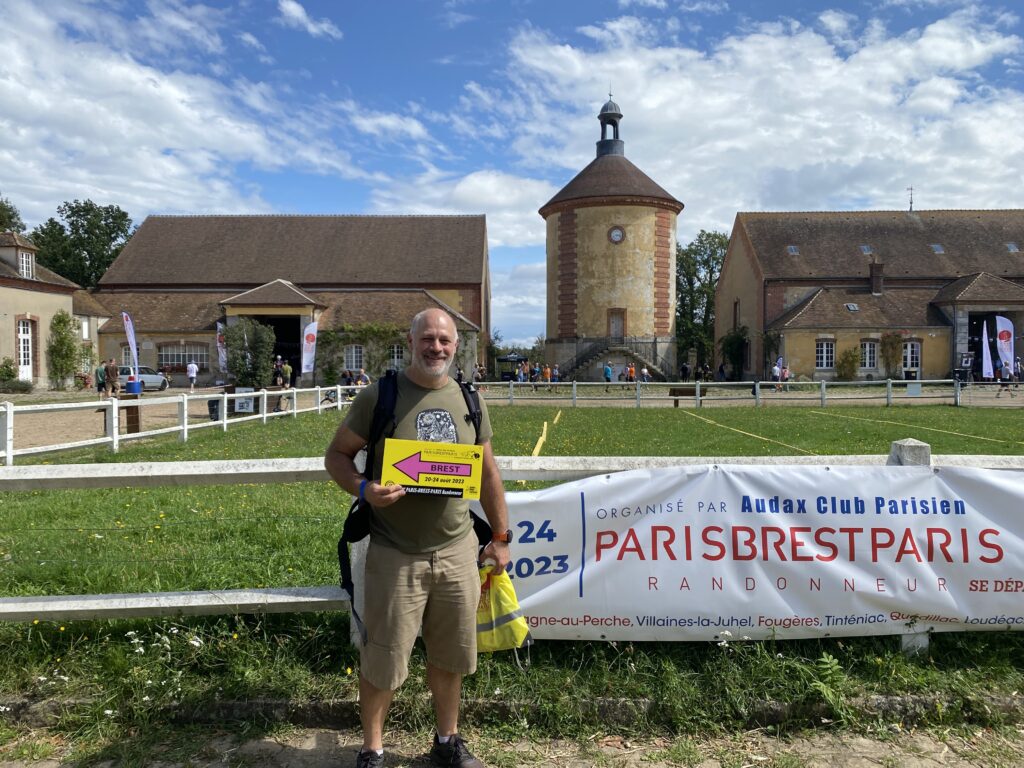 I'm retrieving all the documents, the brevet card, the hi-viz vest, the stickers for the car of my mom…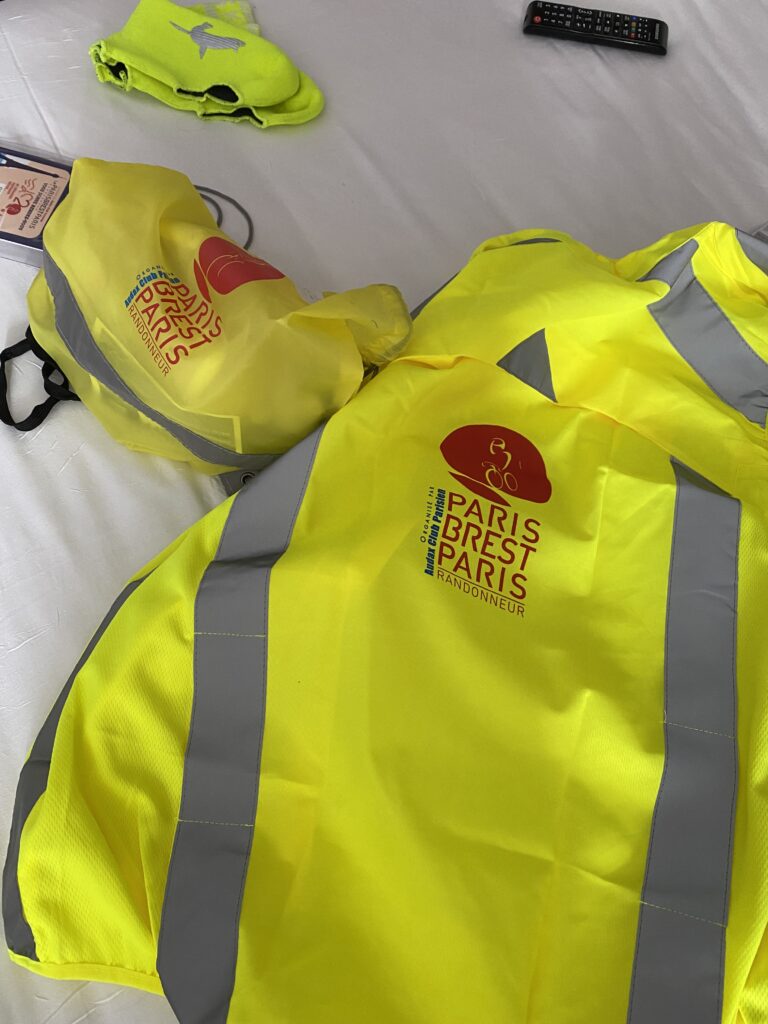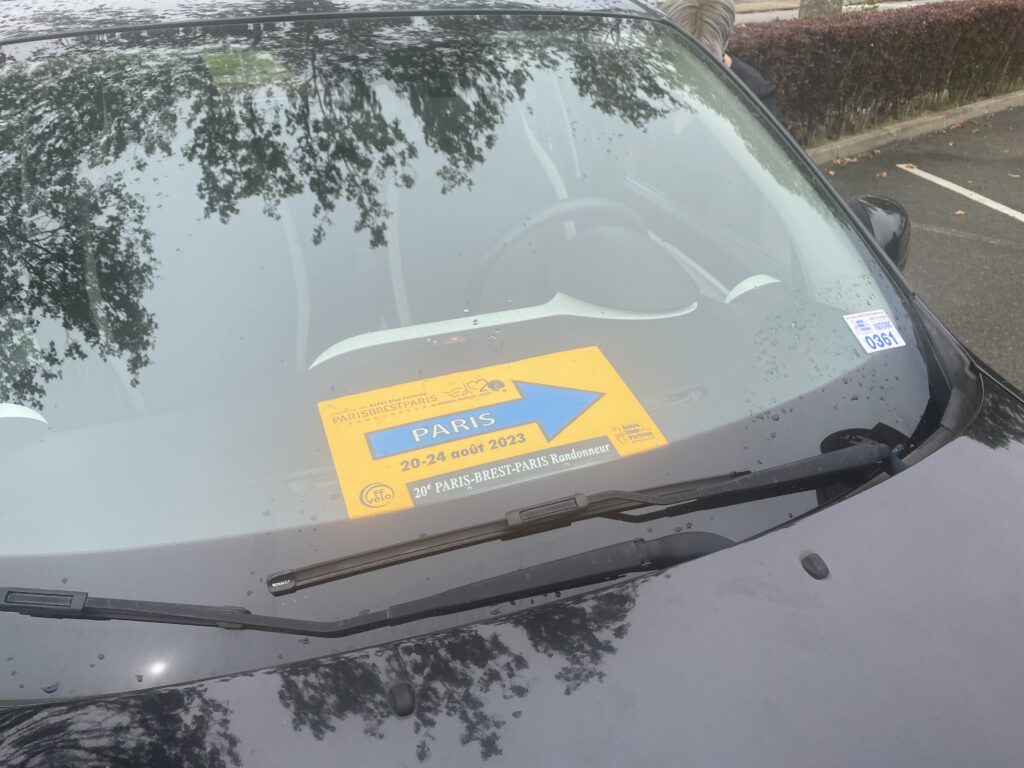 Time for my mom to go home and for me to make my way to the hotel. I jump in the TER train from Rambouillet to Versailles. My hotel is in Buc. 5km away from the train station. Quick ride there.
First time riding the bike after mounting it. Everything is working well. And it's hot!!!
I've been proudly keeping the stickers of the Race Across France. Time to get rid of it and replace it with my bib number: Q124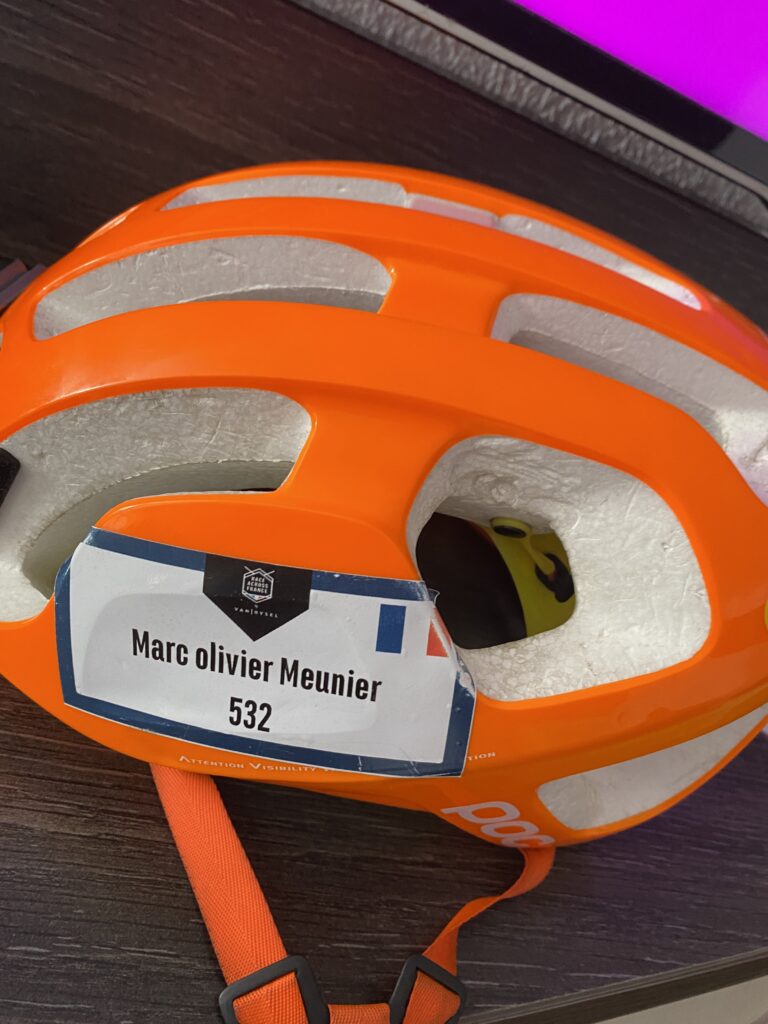 Hotel check-in, a bit of relaxing before going out to have dinner with the Finnish Randonneurs and friends. When I leave there is a british rider sitting on a couch in the lobby. He's locked out of his room. Nobody is available in the hotel to help him… A pizza and a couple of beers. Good times! Guillaume drives me back to my hotel in Buc. Then bed time… and the poor british guy is still in the lobby! That doesn't sound good. Is this a sign?
Last night before Paris-Brest-Paris
It's hard to sleep. So much excitement… I finally fall asleep around midnight…
Toc Toc Toc…
It's 1:00AM and someone is trying to wake me up. I'm stepping off the bed… and there is water everywhere. One centimeter of water at the foot of my bed. Neighbours are up and chatting in the corridor. Everyone is wondering what's going on. The water is only on one side of the room. The hall carpet is damp. The guy on-call has no idea what to do. No plumber on-call. I'm pissed…
I was hoping to get a good night sleep before going on Paris-Brest-Paris, the bike ride of all the bike rides, and I'm getting woken up in the middle of night with no idea how long this circus is going to last. It's quiet again… I go back to find the hotel guy and ask him for a bunch of towels so I can mop the floor. Then I look at him dead in the eyes, and I tell him not to wake me up under any circumstances. They will solve that problem tomorrow when I'm gone.
Bip bip it's 10AM, time to go have breakfast. In reality I couldn't sleep that long but I stayed in bed, because why not.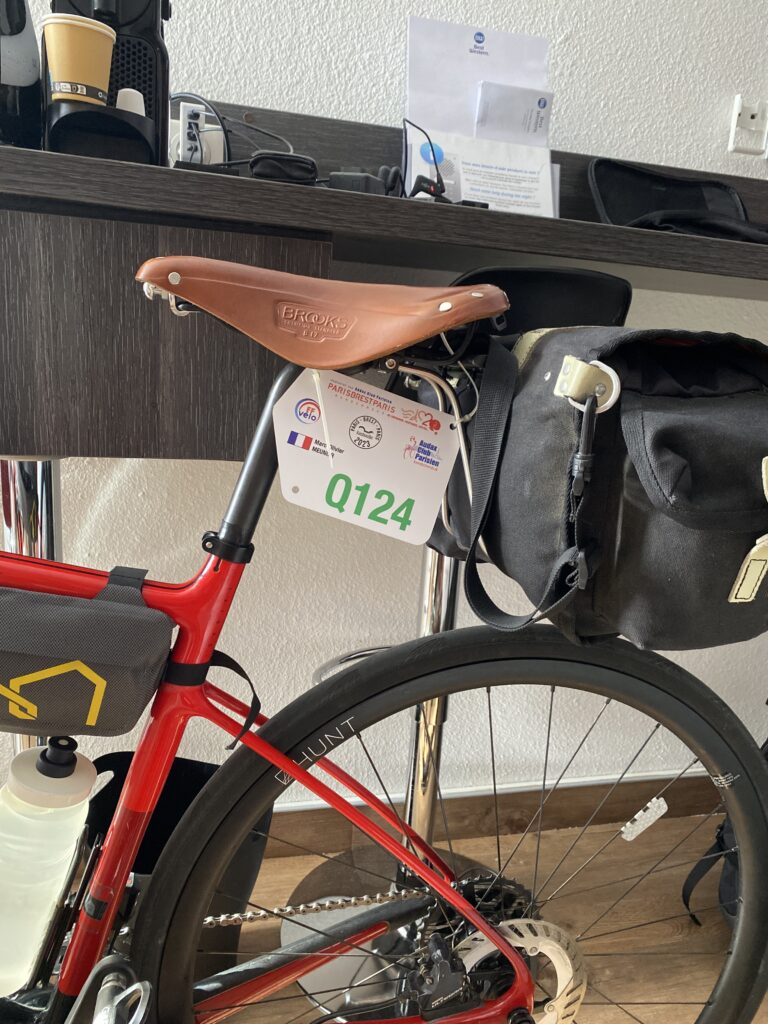 The carb loading continues. Ultra distance riding is also an eating contest and I'm pretty good at it.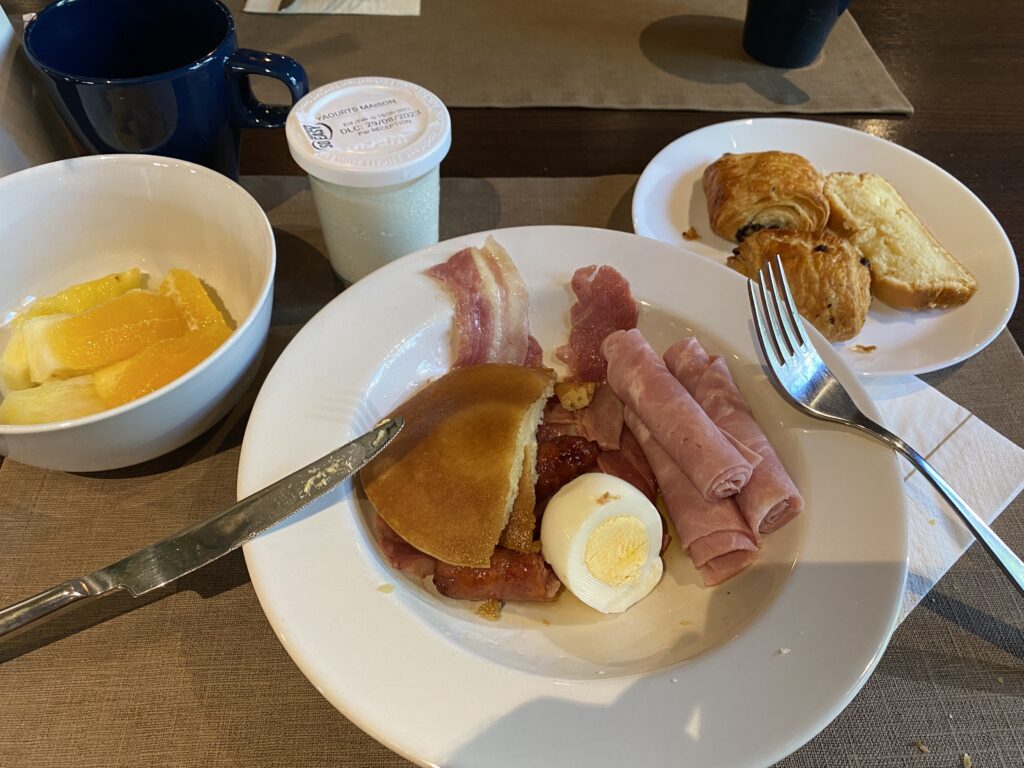 Checkout at 12 and go to Rambouillet by train. In the train I will meet with Rashid (J003) and Jennifer (J004) from Rocky Mountain Cycling Club in Boulder. It's their second Paris-Brest-Paris, if I remember correctly. Could have met them the year before as I was supposed to travel to Boulder for riding the Lefthand Canyon 400K, but then got laid off and the trip got cancelled…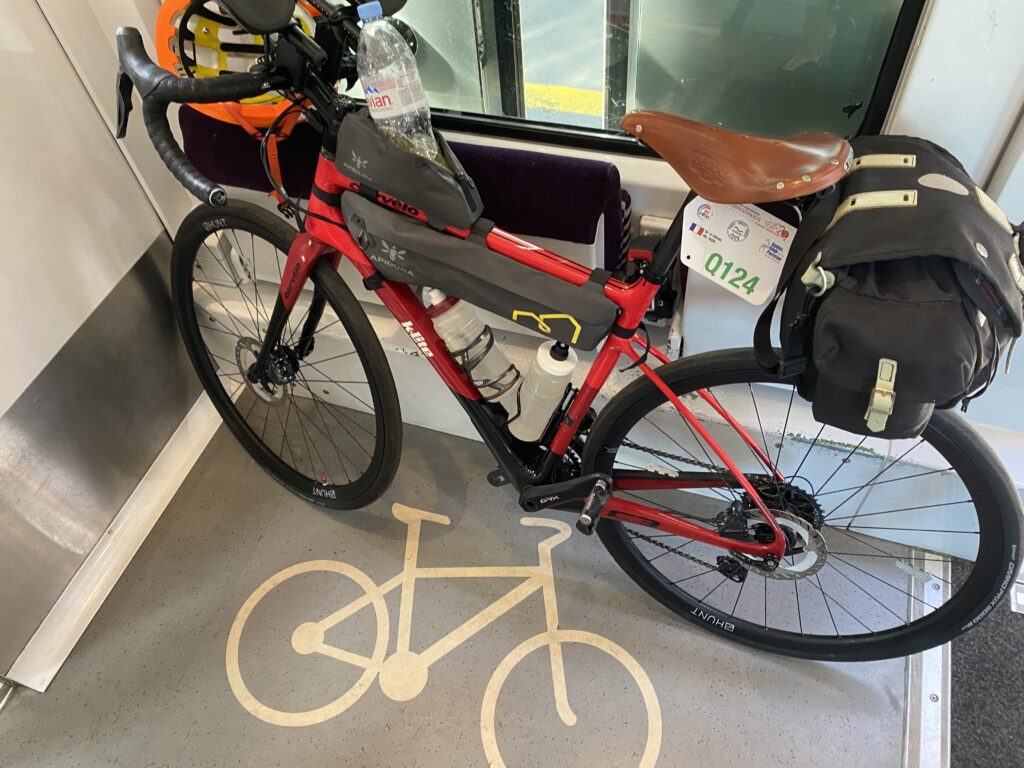 My starting time is at 20:00, so I have a lot of time to kill. Making my way to la Bergerie Nationale de Rambouillet. It's a huge party. So many people everywhere.
The first group is going to leave at 16:00. It's the A group. Full of really fast riders who want to complete the ride in less than 50 hours. It's very competitive. Mikko Makipää, the legend of the TCR is in this group. He wanted to experience the most competitive group of Paris-Brest-Paris and got what he wanted.
I'm killing time by taking a look at the bikes of the concours des machines. There are some really pretty ones.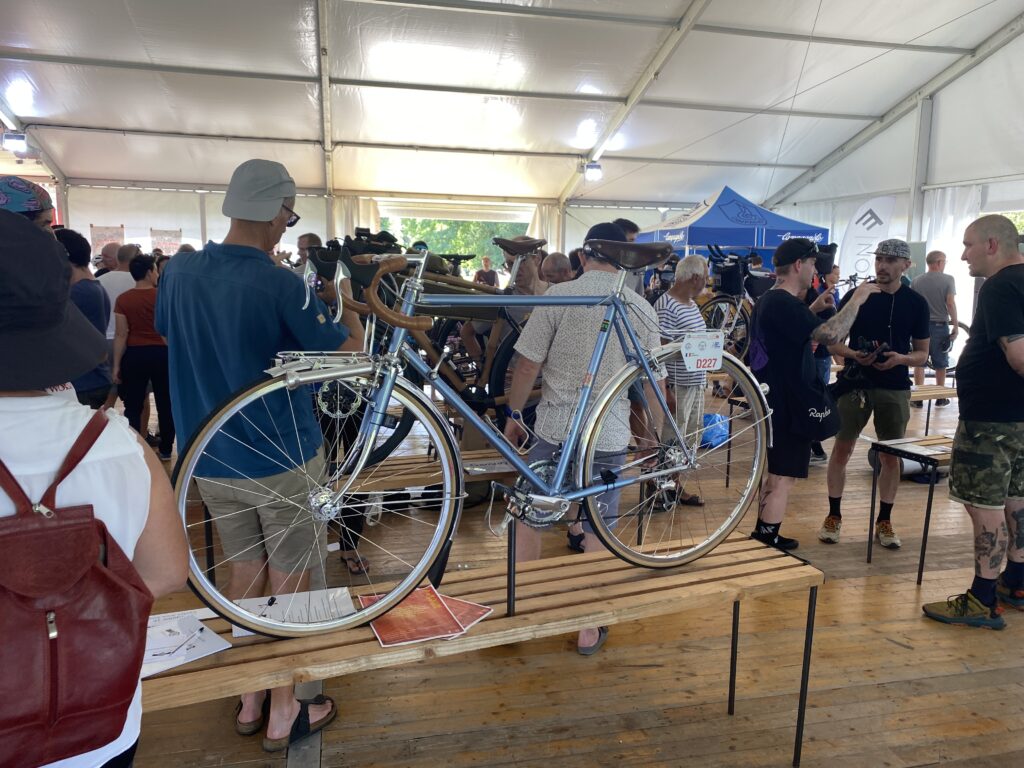 The family is joining me in Rambouillet for a couple hours before the start. It's great to have some support!
Start of Paris-Brest-Paris
19h, it's time to get in the line to get the bike checked. Get the stamp on the brevet card before lining up for the start. It takes one hour to check everyone. My start group has 274 riders. In order to pass, you need to show that you have lights in the front and in the rear. The light in the rear has to be fix. It cannot flash. Imagine 6000 bikes with a flashing light. Epileptic for sure… 🤪
Lining up for the start. It's time to go! Paris-Brest-Paris is starting.
First 120km to Mortagne-au-perche are pretty quick, we have big groups for the first 30-40km. It's going fast and it's easy to hide. We have the motorbikes of the Tour de France opening the road for us for a while.
Mortagne. It's 1:12AM. 5h10min of riding. 30min stop. Buying 2 sandwiches. Jambon-beurre and Rillettes. Perfect for spending the night on the bike. Matthieu who left 15 min behind me caught up, but he doesn't stop. He's got a super strategy with as little stops as possible. I won't see him again!
Let's continue to Villaines-sur-Juhel, the first control point at 202km. I get there at 4:41AM. That's 3h20 for the next 80km. Pretty decent too. 8h40min in the saddle.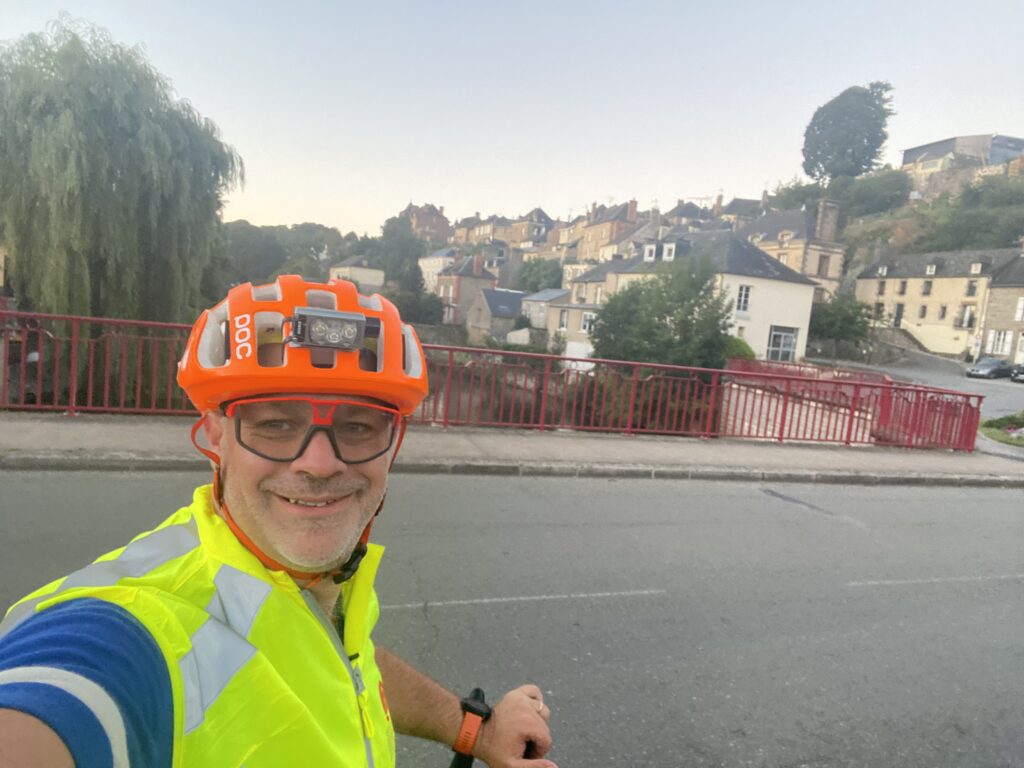 Next stop is Fougères. The sun is coming up. Arriving in Brittany in the morning. 291km. 13h of riding. Still decent. At this point, I'm joining the Finns of Kalajärven näädät. Otto, Sampsa and Antti. They are enjoying their Paris-Brest-Paris time. Taking long stops and eating well. We go together to the next two stops.
Tinténiac and Loudéac. In Tinténiac, I was desperate for my fellow Finns to try some actual crêpes. The only thing they had to offer was some "Galette-Saucisse"… and yes that's exactly what it sounds like. Take a cold galette, shove a sausage in it, and eat. Not exactly the sort of gastronomy I was after. Quite frankly it was terrible. Later I will realise that I really missed out on the proper food of Tinténiac which was inside at the cantine.
Loudéac is at 440km and I'm getting tired. I was planning to sleep there. But it's a bit early. I'm arriving at 17:35. My mom is there to give me some fresh clothes and fill up the food pouches. I am supposed to meet her again in Loudeac 24h later. But I'm unsure and tell her that we should meet in Carhaix instead. That's 90km before. I find a miraculous Airbnb in the city center, on the trace, 1.5km away from the control. How is that even possible. It's booked. My mom can get it. See you tomorrow in Carhaix
Loudéac control point is rather big. I take a shower, get changed and get ready to sleep… But nothing works as expected.
The sleeping area is a disaster. It's a wooden floor. Very noisy. Riders get in the place without removing their shoes. Tap tap tap. Every 10s there is someone coming in the big hall, waking up everyone. The place is lit. There is a row of lights that the volunteers are not able to turn off. It's hot. And for whatever reason, the weirdest snores are concentrating in one place. And I'm sitting right there. The army beds are really uncomfortable. I don't know why I didn't ask for a real mattress right from the get go. There are plenty available. No reservation whatsoever. Next time I will know.
After 2h30min of turning and trying to fall asleep, I decide it's enough and I want to get back on the road. I start to make my way out. But then one volunteer catches me and ask what's going on. It's 20:30 or so. I asked to be woken up at 23:00. Why am I leaving earlier? I explain the whole thing to him and he offers to put me in the other dorm. It's dark, cooler, quieter, with real mattress instead of army beds. I said ok, and fell asleep almost right away. 2h of sleep in the bank.
Left at 23:00, direction Saint-Nicolas-du-Pélem. I feel good. Nothing is hurting. No saddle soreness. No muscle pain. The head is OK. I'm drinking a lot of coffee. At every stop, I ask a coffee with 6 litres of milk. It makes everyone laugh. Then I get to explain that I need the coffee but I don't really like it. I have to say it works bloody well.
Little surprise in Canihuel, 7km before Saint-Nicolas. Secret Paris-Brest-Paris Control.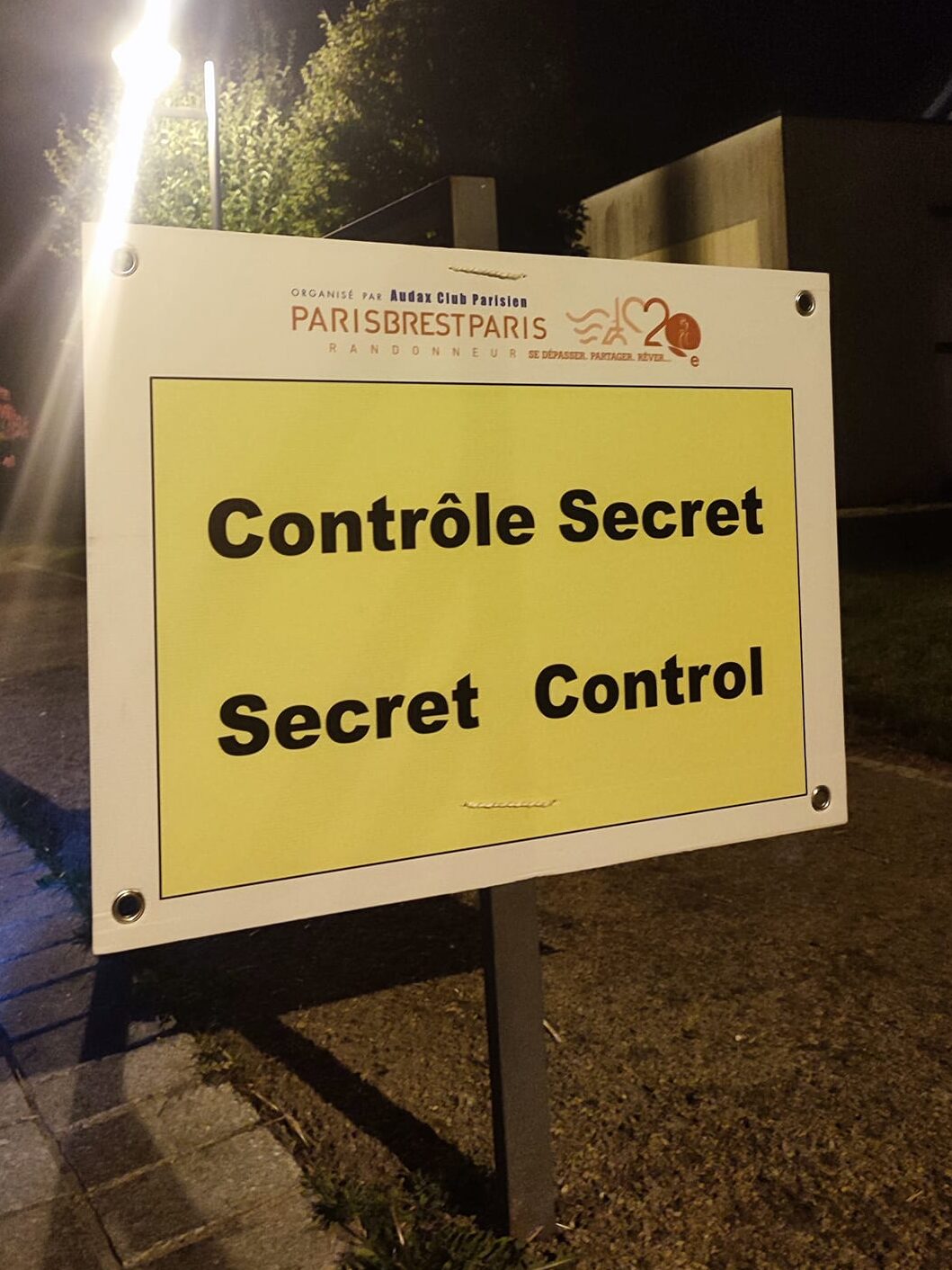 Saint-Nicolas is the best place for sleeping. Stamping the card and straight to the dorm. It's like a cinema. They welcome you one-by-one. Whisper. "when do you want to be woken up?", "remove your shoes", "follow me", "here is your bed".
I'm arriving there at 2:45AM. 2h15 in Saint-Nicolas. I slept 2h00. Super efficient.
I'm leaving at 5:00AM. Direction Carhaix. I'm lucky to find a group of Japanese led by a strong guy and a Belgian guy. The Belgian guy looks like he doesn't belong. He's really strong. Flat pedals. Paniers. We take turns pulling the group and we're cruising at 30kph to Carhaix. We arrive there at 7:30 when the sun just rose. I am not really hungry but I eat something. And quickly back on the road. Let's go to Brest!!!
It's hilly! But nothing really bad. We climb to the top of Brittany. Roc'h Trevezel. 385m high. At some point I am wondering when will we start climbing. A couple of 2-3km uphills. I stop and pull out the phone to see where we're at. There are a bunch of other riders drinking water. At that point, I realise that we are just 2km away from the top. Everybody is happy to hear the news. Especially considering we're 550km in the ride.
It's foggy when I get to the top. Later I will hear that the view was fantastic. I didn't see anything…
When I am about to start descending, I see flashing lights at a roundabout, the police, a screen to prevent people from watching. Doesn't look good. Later I will hear that one rider was hit by a car in the roundabout. I heard he was taken to the hospital but made it out alive. Always scary to see these things. And with 6000 riders pushing the limits on an open road, 7.2 millions kilometres, it's obvious that there will be casualties. The game is to not be one of them.
Next stop is Sizun. Nice little village where I decide to have a breakfast. Getting a crepe from a crêperie that opened at 2AM and made crepes the whole night. Quite frankly they were pretty bad, but considering the guy has been there the whole night, I won't complain. There is an American rider inside with me. When we make it out, I tell him to try another one somewhere else. I don't want him to think this is what galettes are.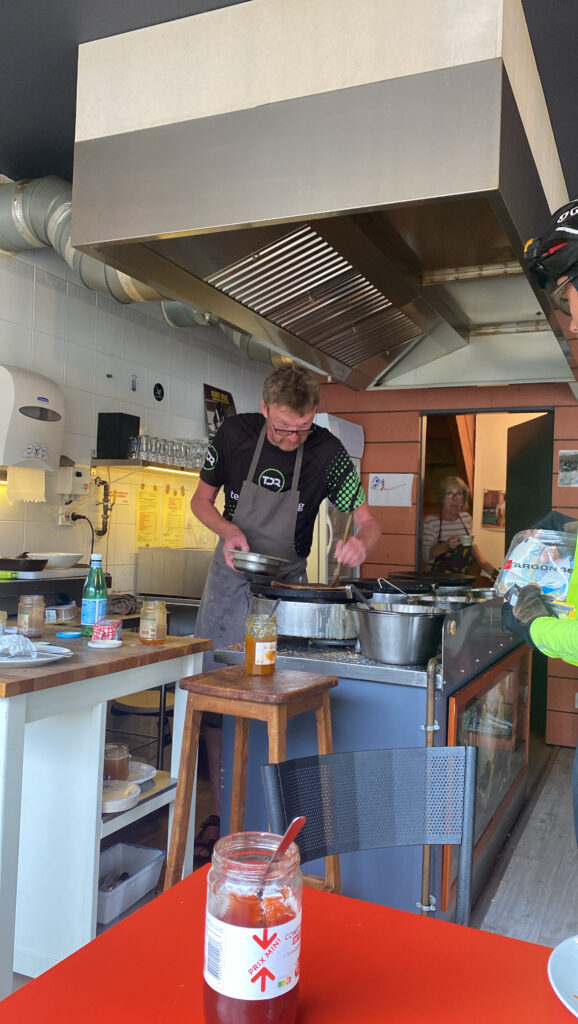 I still go to the supermarket next door to buy a couple cans of Coke, 2 pains au chocolat and a Mars. Quick chat with the locals. They say it's downhill to Brest. Almost true. Note for later, never trust the locals with uphills and downhills, especially if they are not cyclists!
My closing time for Brest is 12:19, and I would rather stay in the game. The opening and closing hours are just an indication. They don't matter for validating the brevet. But they help to understand the overall duration. I make it to Brest at 11:24. Not a ton of buffer, but I'll take it.
Half way through Paris-Brest-Paris
I've heard many riders saying that Brest was the worst CP of the whole ride. I get my stamp, bathroom break and turn around. Direction Paris. Quick Boulangerie stop. 2 sandwiches jambon-beurre and jambon-fromage I get from a young kid working there. Family business. And off we go.
Close to the pont de l'Iroise, I meet up with my Rugby friend Bulbi. He's joining me for a few kilometers with his bike that looks like it could break at any moment.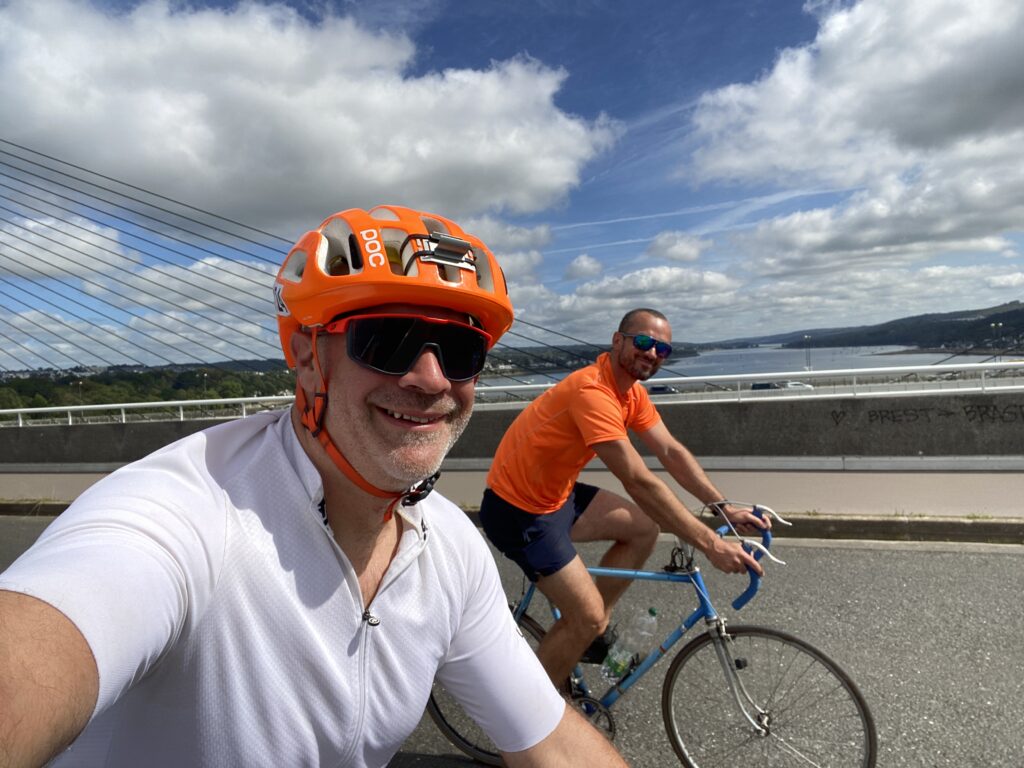 He's telling me the next few kilometers to Faou are going to be hard. Everyone keeps saying that. I saw a guy from group A who was on the return in Carhaix and he was saying the same. I discussed with a local oldie and he said he was coming to that place for hill climb training when he was young. So I'm imagining the worst. But I also keep an eye on the profile of the course, and I know it's going to be a long hill. But not a bad percentage. After riding the Mont Ventoux last year during the Race Across France, the trauma is still there. Brittany is not going to top that off.
Time to say goodbye to Bulbi, and to start the climbs. It's really hot. But it's manageable. When I made it to Loudéac, the first thing I did was getting rid of all my warm layers. So much so that I found myself needing to buy long sleeves for the night… bad decision to leave everything. On the plus side, I now own a new pair of long sleeves. And they are good.
The climb to Faou is not really brutal. Slowly but steady. My average speed is not too bad.
Another secret control. This time in Playben. Right after that I find a crêperie. Still upset with the Galette-Saucisse from Tinténiac, and the terrible crêpe from Suzin, I'm trying a proper crêperie.
I enter and ask if they have a Paris-Brest-Paris Menu. They ask "what's a Paris-Brest-Paris Menu?", I say "Service in 3 minutes", they answer "Yes, we can do that!", "Une complète !" (That translates to Egg, Ham, Cheese). 3 minutes later, my crepe is on my plate. 6 minutes later the crêpe has disappeared. Paying and going. Efficiency. I should have bought two…
Carhaix
I end up in Carhaix around 17:00. Again, way too early to sleep. Yes I have been riding all night and all day, but I'm not tired enough to sleep. We go to the Airbnb. It's 17:30. I find the place. There are bikes downstairs. Other riders are there. Looks like an Airbnb building. The window is open, it's the Chinese team resting there. There is a lady helping the team with food. They only eat what she prepares for them. Their diet is so different that they don't want to take the risk of eating the weird stuff Brittany does… 😁
More stories about the Chinese lady coming soon.
Time is passing. I take a shower. Try to lay down in the bed. Turning, turning… Impossible to sleep. Again. Enough with this. I take the decision to get back on the road right away instead of wasting more time. It's 19:00. 1h30min wasted. Not completely because I charged a few batteries. Turns out it's not easy to keep all the batteries topped up even with the dynamo. Plugging stuff all the time is time consuming. Sometimes it works, sometimes not. I took two batteries with me to supplement the dynamo and they help a lot. But I always keep a buffer for what's really important. I need to be 100% sure I can power my rear light. So I never touch my second battery dedicated to the rear light.
Let's go to Loudéac and sleep there. On the way to Loudéac, there is another service stop. I buy a Coke and get back on the road. I'm feeling alright. The night is coming but I'm not too tired. Clearly it's not the case of everyone. I'm in a small group and at some point we hear a stomp. Someone fell.
The group stops to help the guy. He's staggering. Can't really stand. He doesn't understand what's happening. But he fell asleep on his bike. He's French and about 50 year old. He's on his own. His friends are a few kilometers behind. There is an American guy who's trying his best to speak to him in French to convince him to make a stop and sleep. It's suicidal to try and continue riding in this condition. He's way too tired. He managed to call his friends.
A car stopped and the guy is offering to help. He's shocked and not lucid at all. He doesn't want to stop because he thinks he's not going to be able to make it on time to validate his brevet. I look at the guy dead in the eyes and tell him that he has to stop. If he doesn't, he's going to go in a ditch in the next downhill in 2 kilometers or go under a truck. One or the other. He looks at me and says OK. The car drivers grabs the bike and puts it in the car. Back to the previous stop 3-4 kilometers away so he can rest a bit.
Sleeping well in Loudéac…
Let's carry on to Loudéac. I'm getting there at midnight and now that's a good time for sleeping. Straight to the dorm… it's a bit crowded but I manage to get a mattress. They managed to turn off the lights. Now I need a real night. I decide to stay until 5AM.
At 5:30AM, I'm back on the saddle. Last 400km until the end. Let's go. 400km to cover and I still have until next day 14:02 to finish. I like to make calculations when I ride. "How fast should I go to make it to that place at that time… ", "If I ride at that speed, where will I be in an hour, two hours, three hours…". With 30 hours left to cover 400km. I already know I am going to finish. The hard work has been done. Now I need to enjoy. Going to Villaine-en-Juhel and Mortagne-au-Perche. It's not completely flat. But it's easier than what I've done so far. The weather is hot, but it's bearable. There are really no reasons I couldn't finish. It's party time.
Aching
Of course… riding 400km after riding 800km is not trivial. The body is mostly fine. But there are some signs I need to pay attention to. I have a blister forming on a toe. One Compeed™️ and it's like nothing happened. My left achilles is starting to ache though.
I now realise I have been pushing really hard on the hills between Brest and Carhaix. Am I paying the price now? Possible.
Somewhere on the way, I stop for a coffee and eat a giant piece of flan sold for 1 euro… Brittany is cheap.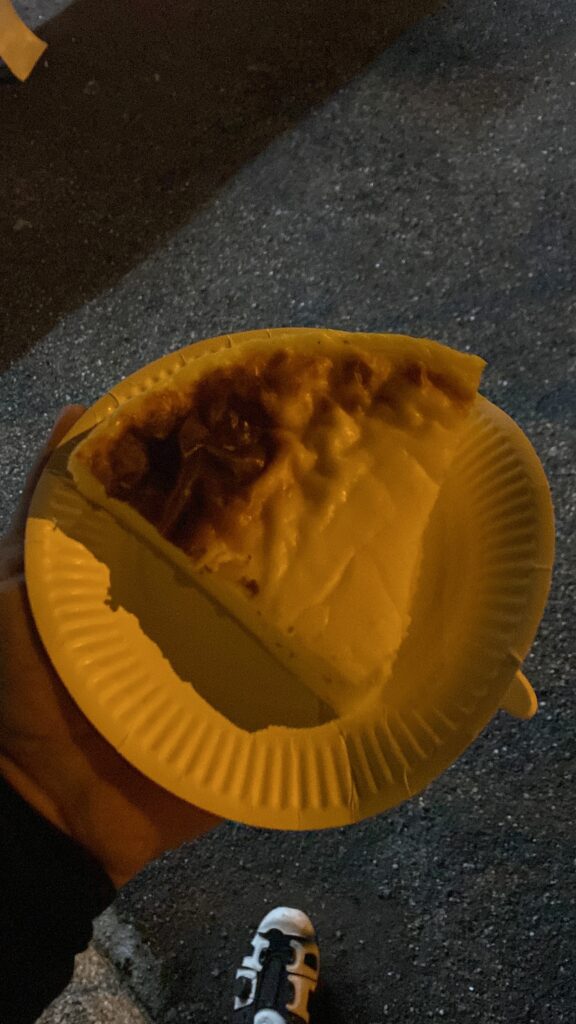 A few weeks before during the 1000K ride to Rovaniemi, I've been trying to teach my fellow Finns some important French sentences. How to order a beer: "Une seize", and what to eat. "Un flan". To my surprise they really got it 😅
There I will find Petri, fellow Finnish Randonneur, and I will meet in person, the man the legend, Jean-Pierre Rivet. Looking fresh and young. I don't know if he's really a legend, but he's spending a lot of time on Facebook on the PBP groups! It was fun to see him. (I later learned that he did not finish. Maybe not so fresh after all…)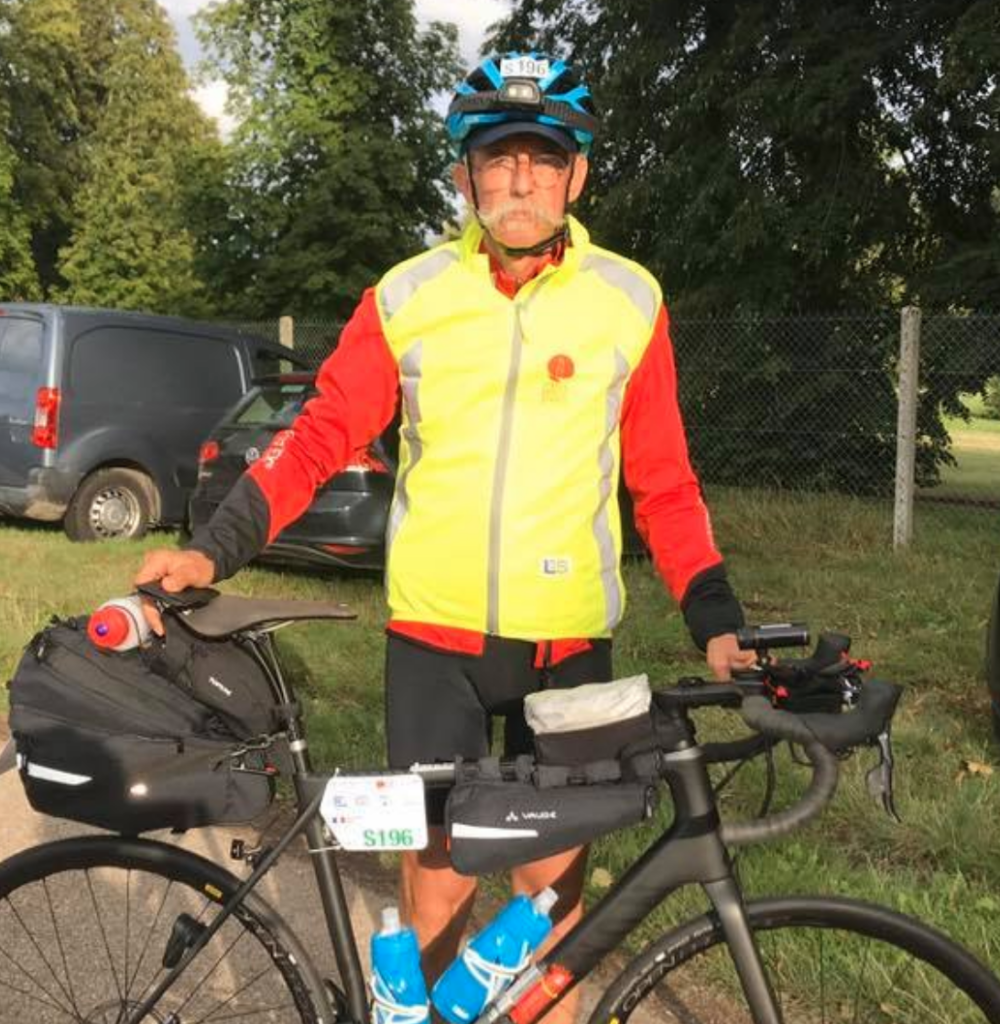 Next stop is Quédillac. The achilles is hurting more and more. Time to eat a really good meal. Loads of pasta. And back on the road. Splitting with Petri. I want to continue. He wants to rest a bit more.
Tinténiac is next. As I get out of the stop in Quedillac, I start following a guy who's going pretty fast. Nice train… But then the German train passes by. They are really really fast. 35-40kph. I try and catch it. Hanging on… it works. I can manage to stay in the draft. They don't take much relays. It looks like there is that guy at the front that's just pulling everyone. It takes no time to get to Tinténiac. And I'm thinking I absolutely need to stick to these guys. Unfortunately they are really taking their time to eat and I don't have that luxury. I really like their motto though: "Eat Pasta, Ride Fasta"
Great food in Tinténiac. The chef is amazing. Proud of his work. The food is really good and varied. Proper french food. Not cantine food like we've seen in most places. Restaurant food.
I get back on the saddle. Need to go to Fougères next and then Villaine-sur-Juhel. Fougère comes and goes. And I make my way to Villaine. 1000km done. 200 left.
Something really incredible happened.
The atmosphere in Villaine was nothing short of extraordinary. I have never experienced that anywhere else. Hundreds of people at the entrance of the village. Everyone clapping and cheering. Making noise as we enter the city. A roaring noise. Incredible. I was really considering turning around and doing it again to take a video.
This is probably what it sounds like when you win a stage at the Tour de France.
I've done a lot of stuff. Played rugby in France, in Finland for the national team, often in front of a sizeable audience, played tennis, a lot of basketball, sailing and racing… but this… this was something else.
My achilles is still hurting. It's manageable but it's hurting a bit.
Stamp.
Then I see a "massage" sign. Wondering if I can get something or even if I should get something… I go in and ask "Hello, I'd like a Thai massage", everyone burst in laughter 😆
There is a guy sitting at a table with a large notebook, writing down everything about everyone. He looks up and says "Sure, please choose one of these ladies". Everyone laughing again. Getting serious again, I describe my problem. The guy writes everything down in the giant notebook. He asked Denise to take care of me. Says the doctor will look at my leg. Marie comes behind and says "Are you sure you don't want a back massage?". "Yeah why not… 🤣". Marie and Denise are well in their 60s, we're having a good laugh. They are lovely and really want to help. What a great experience.
The doctor looks at my Achilles. It's red, a bit swollen. She advises not to touch it too much + some pain killers to get me going. Denise and Marie are very excited as they undress me. Can't complain. The back massage was very welcome. They forgot the pain killers. I have some. No problem. It's about 7-8PM when I'm there. Again, not the best time for sleeping. I'm hungry. I get some help from another volunteer. Struggling to take everything with me. My shoes and helmet in one hand. The tray with the food. A bottle of water. Coke. The volunteer makes space for me. Takes me all the way to the tables. Red carpet treatment. She's awesome.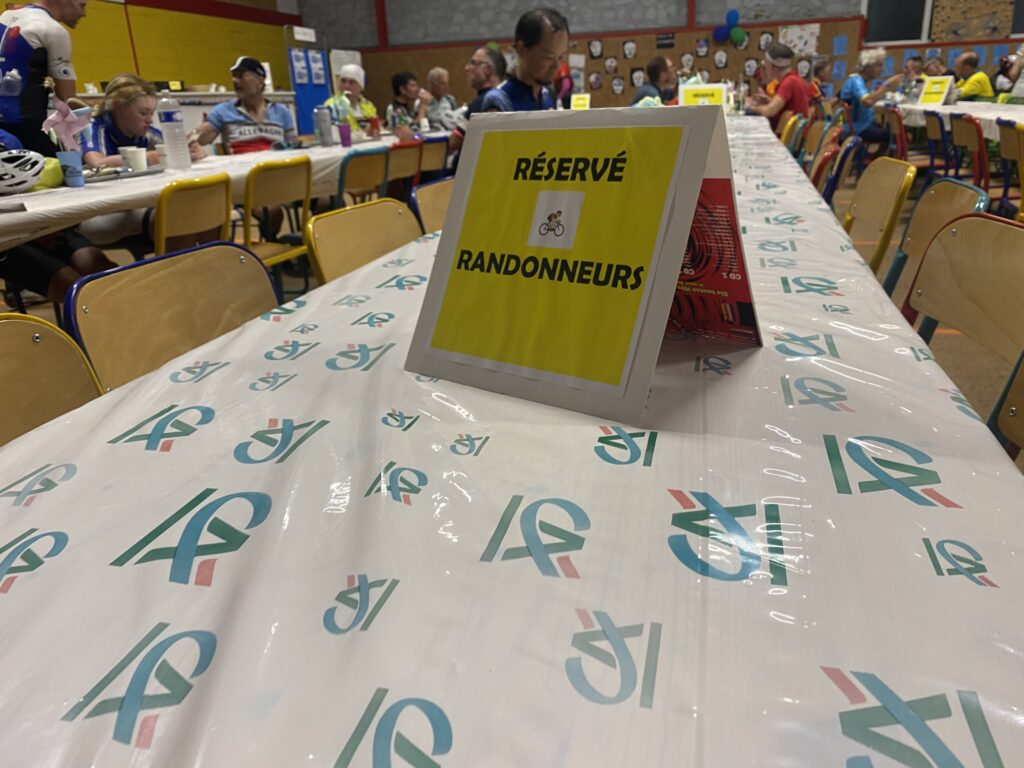 I make everything disappear from the tray, and go to the dorm to get a bit of sleep. Still 200km to cover. I want to make sure I leave around midnight so I can be in Rambouillet no later than 12:00. Then I have 2 hours of buffer to finish Paris-Brest-Paris in 90h in case something happens.
Of course, very hard to sleep. I get maybe one hours of sleep. It's noisy outside. Kids are playing right outside the dorm. People keep entering the dorm.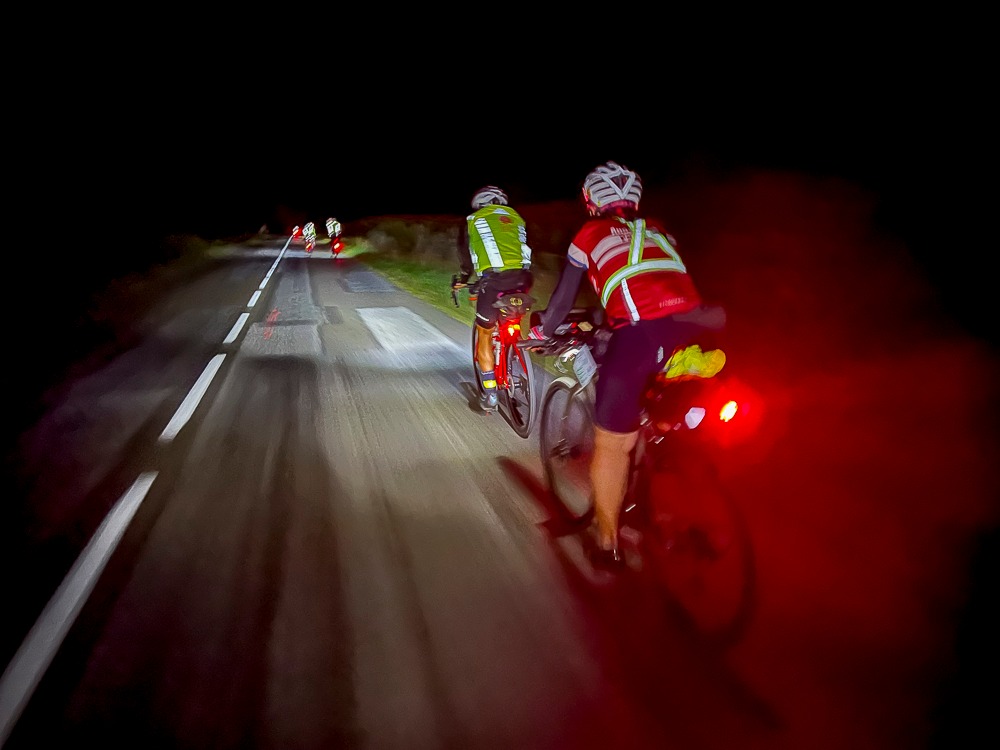 It's 1:30 AM. Up and let's go. Next stop Mortagne-au-Perche.
Finishing Paris-Brest-Paris
It's starting to smell really good.
Odd stuff happen. A Japanese guy falls asleep on his bike on the left side of the road… Awesome bike, all Dura-Ace… not broken though. Lucky. But he broke his glasses.
A few kilometers later, still pitch dark and I overtake an Italian guy. He's pitch dark as well. No lights. I gave him a spare rear light. Knowing that I have way enough battery on mine, and I have another spare in case. The poor guy is exhausted and doesn't even really understand…
That's one of the interesting thing that most people who don't cycle long distance won't understand. When you have 200 km left to cycle, it would be a daunting task for the average cyclist, but when you're used to that, you already know that you are going to finish no matter what. It's just a matter of taking it slow. And it's great because you start going through all kinds of happy emotions. It's Paris-Brest-Paris. It's the middle of the night and it's a bit scary. Villages are empty. There is nothing moving. But you have a big smile on your face, because you know that the end is near and you are going to finish.
Villaine to Mortagne is exactly like that. I left at 1:3A0AM. At some point I decide to stop to take a break and eat a bit. I'm counting hours. I know I have enough in the bank to finish well on time. I take one of the two terrible sandwiches I got at some stop. They've stayed in my saddle bag for way too long because they were mostly bread and a tiny bit of ham and cheese. Not very appetizing. But now that's all I have left to eat. One can of coke though… won't complain. I stop in a random village to drink yet another coffee. The typical dive bar of a random village.
I'm really surprised to see one rider having a cigarette with his coffee… clearly some of us are not built the same. Perhaps he's celebrating the end getting closer.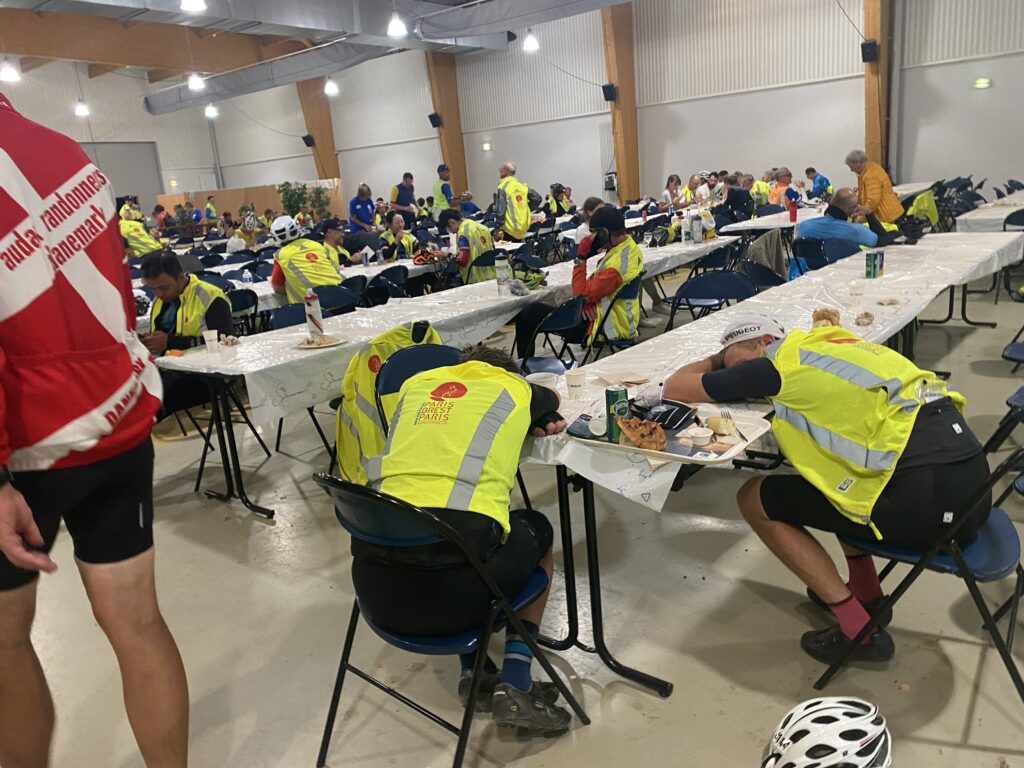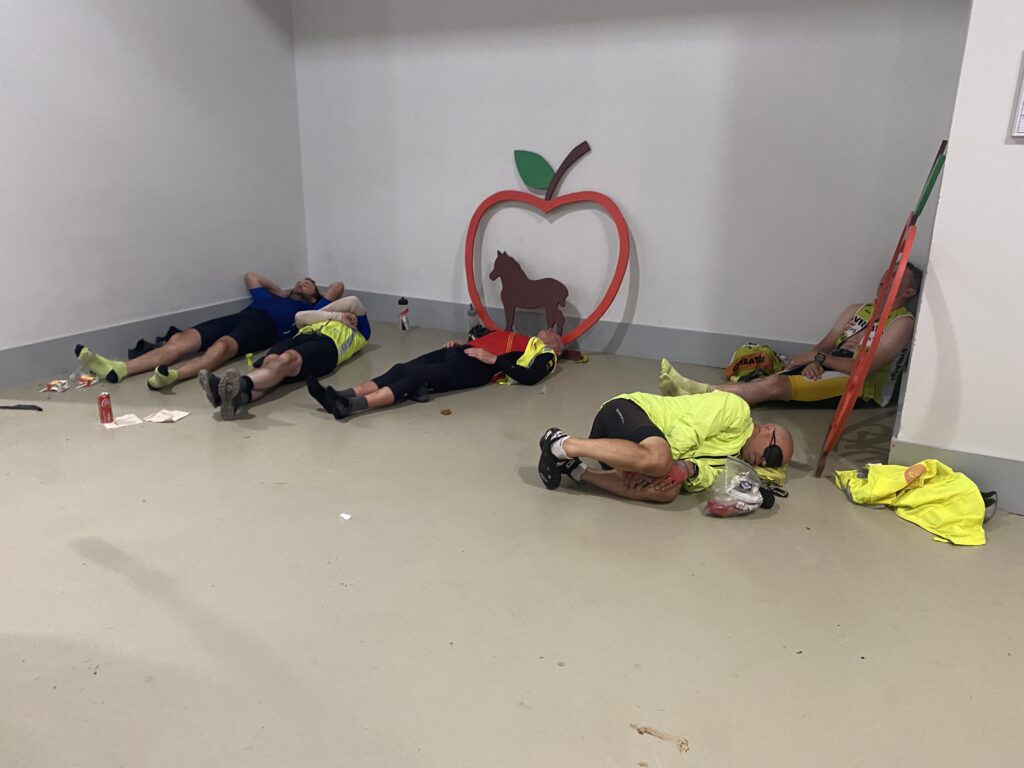 Soon enough we're in Mortagne. The dreaded uphill to get to the entrance of the control point. And I can have a flan, another coffee, a couple pains au chocolat. Chatting a bit with another rider. Everyone is spent. People are sleeping in random places. It's the early morning. The sun is going to raise soon. 100km to go and we will be in Rambouillet.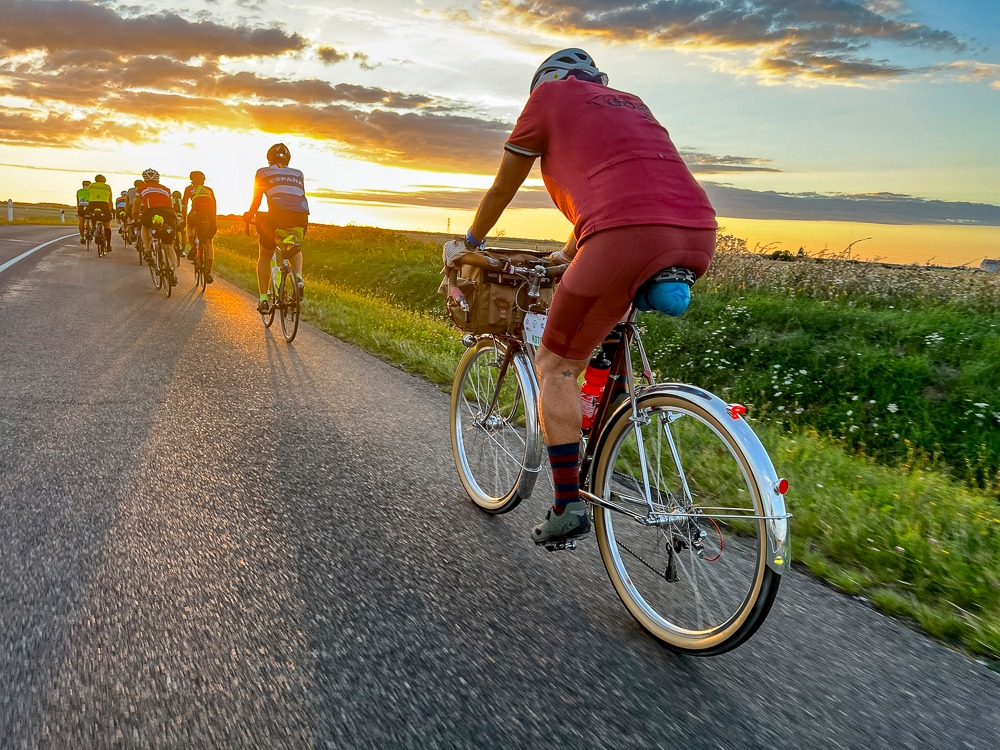 Before making it to Dreux, I found myself in another fairly strong group. One British guy pulled a group overtaking at 40kph. I managed to latch on. Then I realised that the poor guy at the front was not getting any help. So I offered to trade pulls and a couple other guys came to help to. It was great to close in on Dreux so quickly. From Senonches to Dreux even slightly downhill. Great run.
The CP in Dreux is quite strange I must say. For some reason we have to go to Dreux. It doesn't really feel right. We are clearly entering Paris region. The drivers are impatient. The traffic is dangerous.
The stop itself doesn't feel in line with the rest of the course. Every Paris-Brest-Paris stop, maybe except for Brest were in rather small places. Dreux feels like a big city. We're anonymous. People have no idea what's going on. Wherever we were going in Brittany, there was kindness. Now we are back to Paris. It's like the dream is over.
To add to this, the organisation of the CP was quite erratic. When I entered to get some food, there were hundreds of tables. They were covered with trays and plates and food. Almost impossible to find a free spot, except by piling other trays.
I went to try and get some food. No more pasta. No more trays (guess why). The cashier don't take cards. They look really really tired. They are really looking forward to this whole circus to end.
I won't stay long. 43km left and I want to finish strong. I leave at 10:25AM and I tell my brother I will arrive by 12:00.
We have the wind in the back for a bit. It feels nice.
At some point, a tractor overtakes. I start to hide behind it… but then comes a small uphill. No way I'm going to lose my tractor, I push 1000W to stay behind it. I must say I was pretty proud to still be able to push 1000W after 1150km… It wasn't for very long but it worked and I stayed behind the tractor for another few kilometers until it turned away.
Now only about 25-30km left and we see the group of kids that did Paris-Brest-Paris over 10 days. Huge accomplishment for them too. And they are arriving at the same time. And as I overtake them I'm starting to think it's going to be over soon. I stop in a bus stop… not sure why. I just don't want it to end. The kids overtake again… I start again… With a big grin on my face, but also a bit sad. I need one more wild experience. What is it going to be?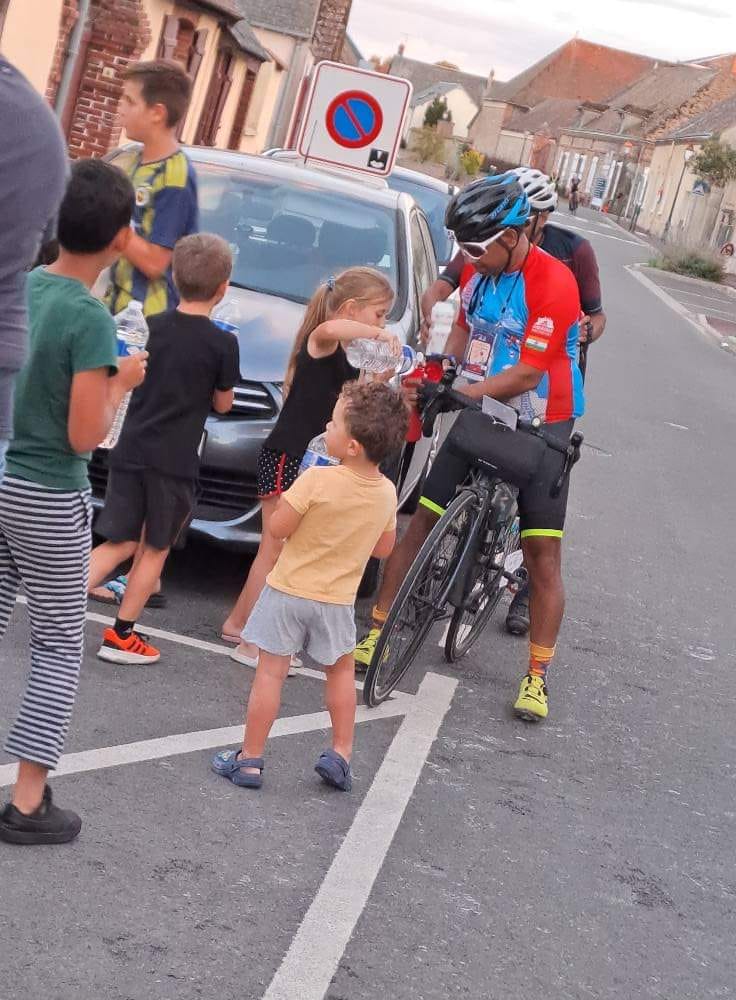 This is a small selection of what you can find on the roads of Paris-Brest-Paris
Last stretch of Paris-Brest-Paris
And then came I054 Lee Yee Seng. He's in trouble. He saw me pushing to keep up with the tractor and he's asking if I can help him to get to the finish line of Paris-Brest-Paris before 12. About 30km left and barely an hour.
Flashback to the Race Across France where the exact same thing happened to me. I was struggling to finish within 40h and I found two guys who helped me to make it right on time with 2 minutes to spare.
"Challenge accepted". Lee Yee Seng, we're going to take you to the promise land. He's saying four years ago, he made it with just one minute to spare. He's hoping to do better this year!
I still had some energy in the tank, so I just gave everything for the last stretch. We're counting the hills. Two more to go. One more to go. Less than ten kilometers left and we're pushing to make it on time. I'm trying to get some help from some other riders, but everyone is exhausted.
5km before the end we found another French guy, Z056 Corentin Travers, willing to help. We pulled and pulled and finally made it back to the Bergerie. Crossing the line at 11:57:07. Corentin first, then me and Lee Yee Seng. Right on time. Mission accomplished.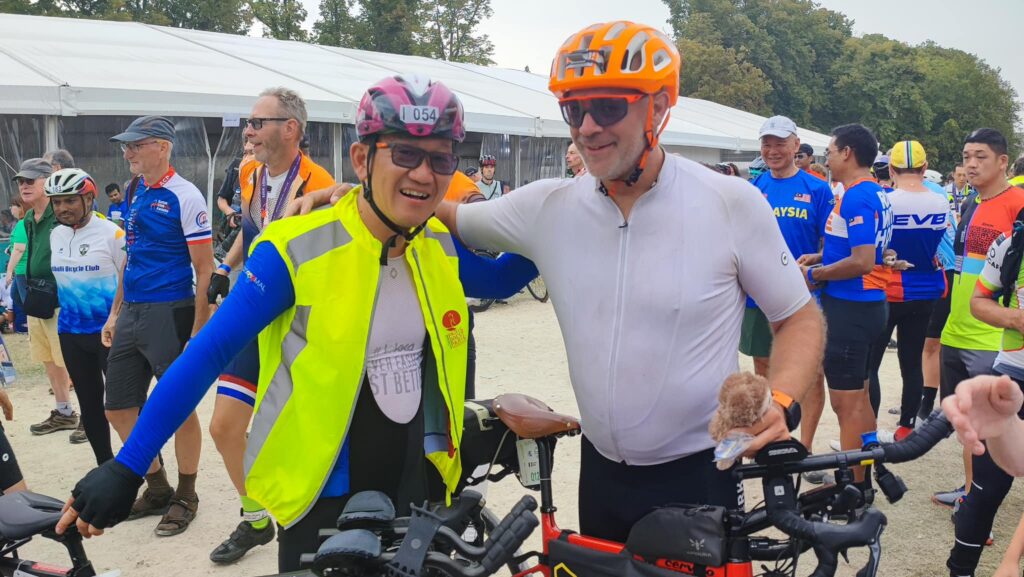 https://www.strava.com/activities/9735244803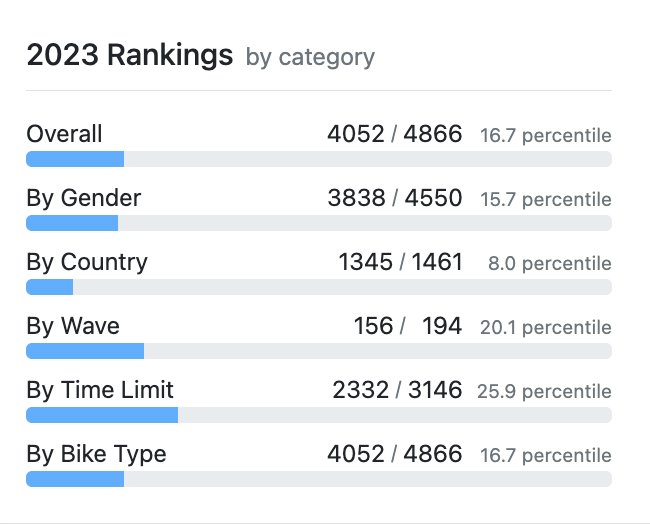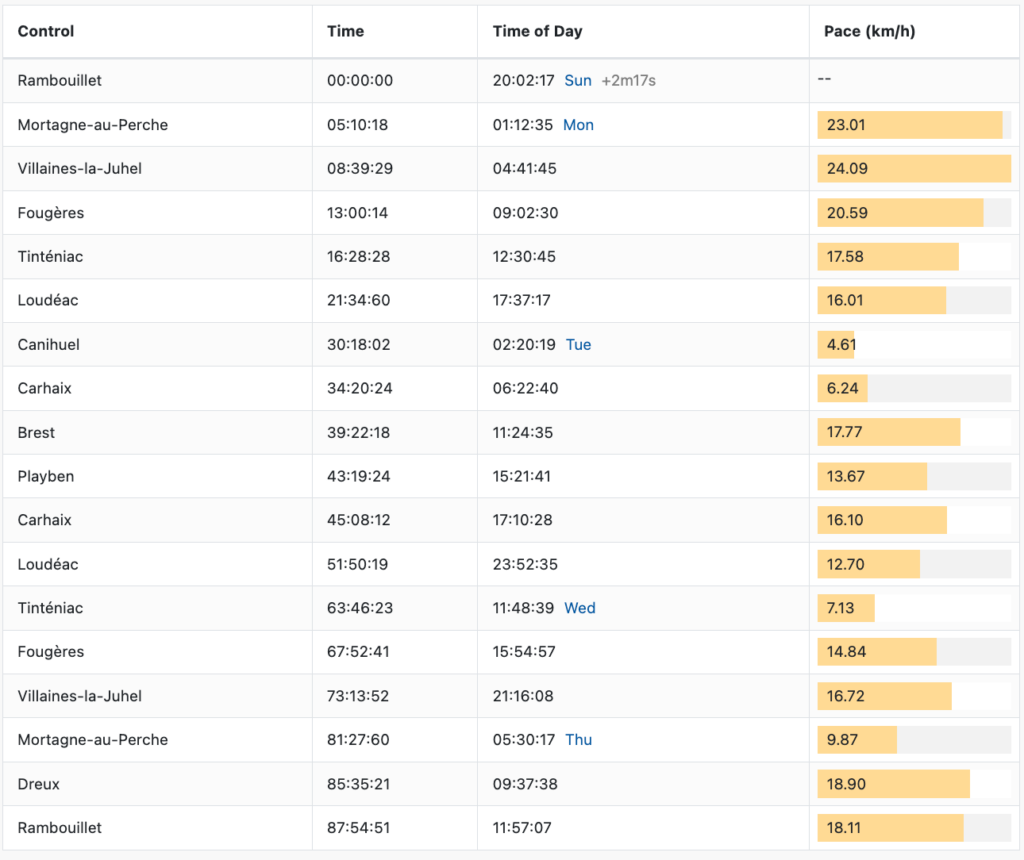 Obviously my max speed was not 155kph. That was a glitch.
The Chinese story
When we were in Carhaix, my mom made friends with the Chinese lady who was cooking for the Chinese randonneurs. They were communicating through a phone app that was listening, translating and speaking. Great technology!
The morning after Carhaix, when my mom wakes up, the Chinese lady tells her they are in trouble. They have a rental car but it broke. So they are stranded in Carhaix and can't go anywhere. My mom has a car and she offers to ferry her and many drop bags to their next stop in Fougères. Then they will drive back to my moms place in Mandres-les-roses for the night before heading back to Rambouillet on Thursday. Great experience for my mom and great relief for the Chinese team to have a local helper!
To Janna
During these last 2 years of turmoil and uncertainty, I have always been able to count on my wife Janna. None of this would have been possible without you. ❤️
Thanks
So many people have made this adventure possible.
My mom and the rest of the family for the logistic support during the event.
My rugby friends from engineering school, who would support me through Whatsapp, sending encouragement at any time of the day or the night. Momo, Tonio, Bonne Année, Renard, le Gay, Bulbi, Couillu, Grille de douche, David and the others. Yeah don't ask about the nicknames… mine is Cyborg.
Matthieu for the friendly competition. We've been training together and pushing each other during these past 4 years.
The Finland Randonneurs, Mikko Mäkipää for organising all the BRMs, Kalajärven näädät Otto, Sampsa and Antti for the motivation during the BRM 1000 to Rovaniemi in June. Antti Pietilä for the administration of the BRMs and all the riders I've been learning from. Especially Jan Kruse who was telling me all his PBP stories during my first BRM 200 Tuopin Jäljet right after PBP 2019 and gave me the PBP bug.