Reading Time:
3
minutes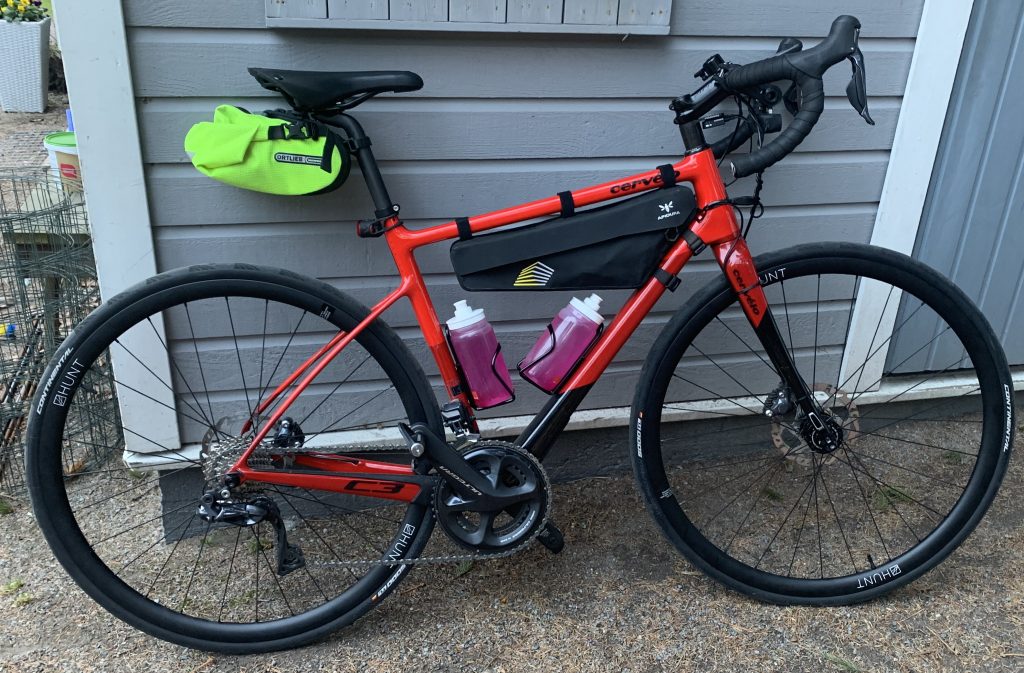 This is my new Cervélo C3. I say new because I just got it, but it's a second hand bike. I've never, and probably will never buy a brand new bicycle. I'm very happy with the idea of giving a second life to a bicycle.
Equipment on board
So it's a Cervélo C3 with Ultegra Di2 groupset and hydraulic disk brakes.
What sorts of equipments can you see there:
Saddle: Brooks C19. The most comfortable saddle I've ever used. I just love it. Other saddle would give me all sorts of problems. Short nose, split saddle, super fat, etc. Nothing works like a Brooks.
Wheels: Hunt 30 Carbon Dynamo. Perfect wheels. I said I don't buy brand new bikes, but I rather get new wheels, and that was a great investment.
Tyres: Continental GP5000 Tubeless. First time I put on tubeless tyres. I've heard many times people saying it was easy and life changing. So far so good.
Bike computer: Wahoo Elemnt Roam. I'm a big fan of Wahoo. It just works. Garmin seems to be better on the paper, but I see people struggling all the time with them… I've used my Wahoo in extreme conditions and it's never let me down. I'm attaching it to the bike on the aero mount attached to the handlebars.
Saddle bag: Ortlieb saddle-bag Two High Visibility: Simple, light and functional. Not the easiest saddle bag to remove from its mount but it's decent. Also the opening is the not the most practical as everything can fall off the bag when you open it.
Frame Bag: Apidura Racing Frame Pack 4L. This is one of the best purchase I made. Very convenient bag, easy to open and easy to use. In it, I carry an extra bottle, the USB charger + a spare battery (see below), money, my phone, a lot of food. It's pretty big!
Pedals: Garmin Vector 3 with power meter. More of a luxury than a real necessity. It give some kind of indication if you are pushing too much, but I could easily do without and trust the HR instead.
Front Light: KLite Ultra V2. Includes a USB charger so I can continuously charge my Wahoo, and top up the phone. The KLite is a beast. It's borderline legal with 1300 lumens. I direct it slightly towards the ground because I can notice people often covering their eyes when I come facing them.
Rear light is a dumb Lezine. Nothing fancy. But I need to find a way to plug a dynamo rear light. Still unsure how to do the connection.
Potential improvements
The rear dynamo light is important. I do have a Busch + Müller real light, but I just haven't gotten around to installing it.
I have a food pouch which I haven't used. It was a mistake on the previous brevet.
I am considering aerobars. Spending hours and hours on the handlebar can be really tiring, and resting your arms on the handlebar is a bit dangerous, although pretty nice.
I have a Carradice on its way. If anything, it will give more of a randonneur look… And additional space for carrying an extra set of layers for when it gets cold, more food, maybe a small sleeping bag. It should be a 9L so quite a lot more than the Ortlieb saddle bag. It also means I can take more tools, but tools are heavy…
I will probably replace the Shimano 11-28 cassette by a 11-30 because I am suffering too much in hills. Or maybe a small ring in the front. Not sure what's the best.