Reading Time:
2
minutes
Comfortable or Fast?
I've been riding long distance with the wrong bike for too long. My ride is a BMC Team Machine Ultegra Di2 with Dura Ace C24 wheels. It's a race bike. It's aggressive. You push the pedals and it wants one thing: going fast.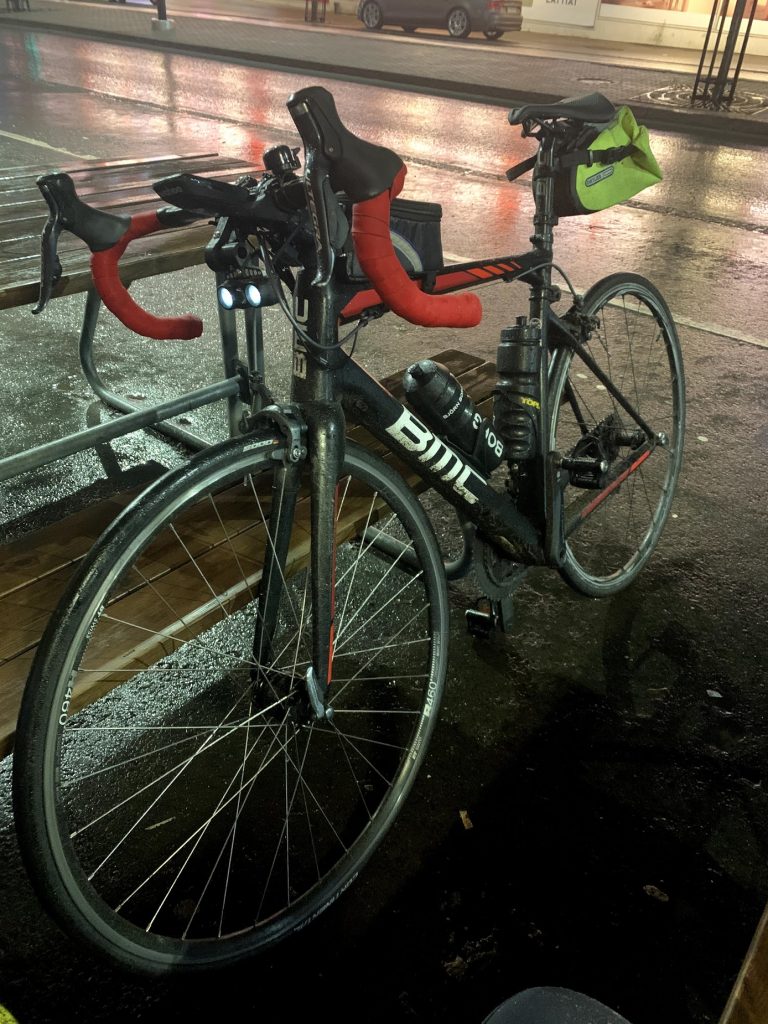 The problem with a race bike is comfort. Full carbon, very stiff. The Dura Ace wheels are also carbon with aluminium, but more importantly the geometry is pretty aggressive for my body.
After going through a bike fit, I changed:
the stem for a shorter one (ZIPP Service Course SL 17° – 90mm)
the handlebar for a wider and aero one (ZIPP SL-70 44cm)
the saddle for a wider one with a short nose (Specialized Power Expert 168mm)
Lights?
For going through the night, I added a Dynamo front wheel with a SON 28 hub. It's a lot heavier than the Dura Ace wheel, but I can now power a K-Lite Ultra V2 front light and a USB charger. This means I can keep my phone and my GPS topped up at all time.
I prefer comfort
Lately I've started training with Team Rynkeby and we all use the same bike. It's a Bianchi Intrepida 105 with rim brakes and entry level RS Shimano wheels. The geometry is very relax and made for spending long days on the saddle. And talking about saddles, I exchanged the Selle Royale saddle shipped with the Bianchi for a Brooks C19, and I really love this saddle.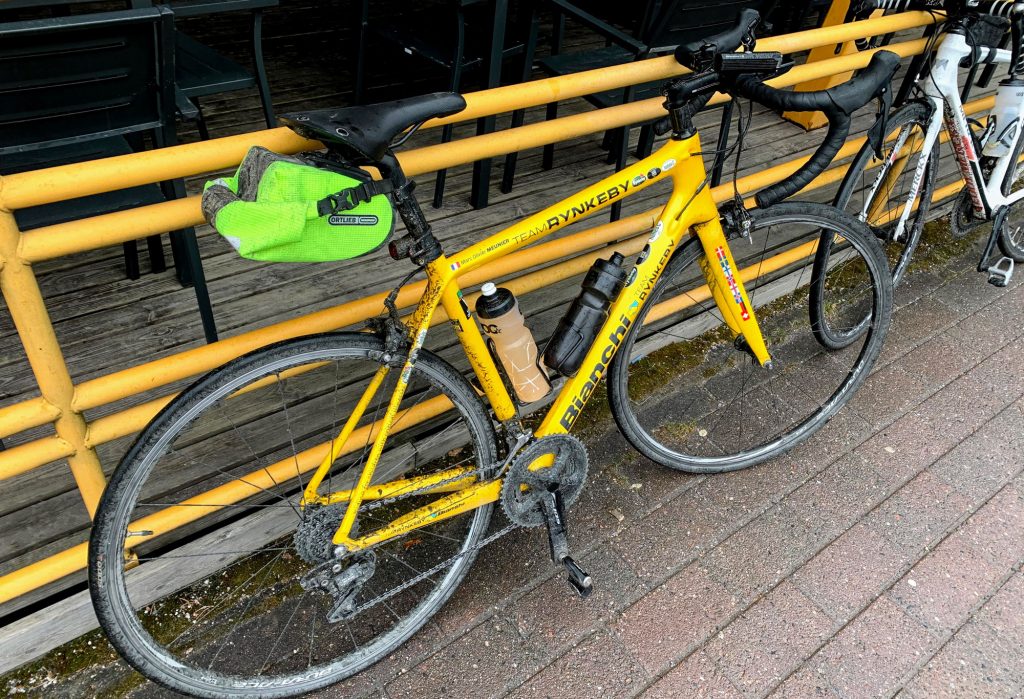 I've had a lot of issues with the BMC and it got me thinking that maybe I should stop using it for long rides. I love the speed, the responsiveness, the noise it makes when I start accelerating… but I hate the numbness in my fingers and my crotch.
Yesterday I went for a 200Km ride with the Bianchi and I haven't had any issue whatsoever with numbness in the crotch or the fingers. I did start to develop an inflammation on the left knee but I think this may be related to the position of the cleat. I need to dial that…
The only real problem I had was shifting. Since the Bianchi has a 105 group-set, there is no option for electronic shifting like Di2. And when you've tried Di2, it's hard to go back to mechanical shifting.
Electronic Shifting is really cool…
Should I install Di2 on the Bianchi? Maybe not. There is a lot of stuff I would like to upgrade on the bike and maybe it's not worth it.
Instead I decided to sell the BMC, and shop for a replacement. I got my hands on a Cervélo C3 with Ultegra Di2 and Hydraulic disk brakes.
| | | | |
| --- | --- | --- | --- |
| | BMC Team Machine | Bianchi Intrepida | Cervélo C3 |
| Geometry | Race | Endurance | Endurance |
| Groupset | Ultegra Di2 | 105 | Ultegra Di2 |
| Shifting | Electronic | Mechanical | Electronic |
| Brakes | Rim | Rim | Hydraulic disk |
| Fun level | ⭐️⭐️⭐️⭐️⭐️ | ⭐️⭐️ | ⭐️⭐️⭐️⭐️⭐️ |
| Comfort level | ⭐️⭐️ | ⭐️⭐️⭐️⭐️ | ⭐️⭐️⭐️⭐️⭐️ |
I'm hoping to receive the Cervélo very soon so I can confirm my assumptions!