Reading Time:
2
minutes
India Gate
India Gate is a monument build in the 1930s in memory of India soldiers who died during first wold war. I was surprised to see something about France written on it, close to the top.
It says: "To the dead of Indian armies who fell and are honoured in France and Flanders, Meopotamia and Persia, East Africa Gallipoli and elsewhere in the near and the far East and in sacred memory also of those whose name are her recorded and who fell in India on the North West frontier and during the third Afghan war."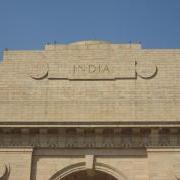 There was a lot of people taking pictures at this sight. Not only foreigners and in fact very few foreigners. Most of the people visiting this place are from everywhere in India.
My taxi driver said he could recognize the accent of people from Mumbai and he heard many. Taxi drivers see and talk to a lot of people so he must be right.
Still I saw too funny girls from Japan who were dressed with some traditional Indian sari. I saw again them in the following sight I visited taking funny picture.
The India gate was very close to the embassies. It was great to see that Indians can keep some areas very clean if they want!
Oh by the way my taxi driver, here he his.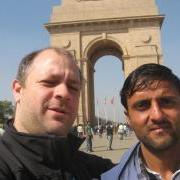 The usual lot of street sellers.
And some rather unusual ones…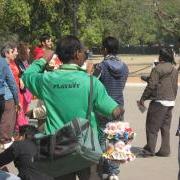 Oh and I saw a Cobra but I silly me I didn't take a picture…